Roasted Butternut Squash Hummus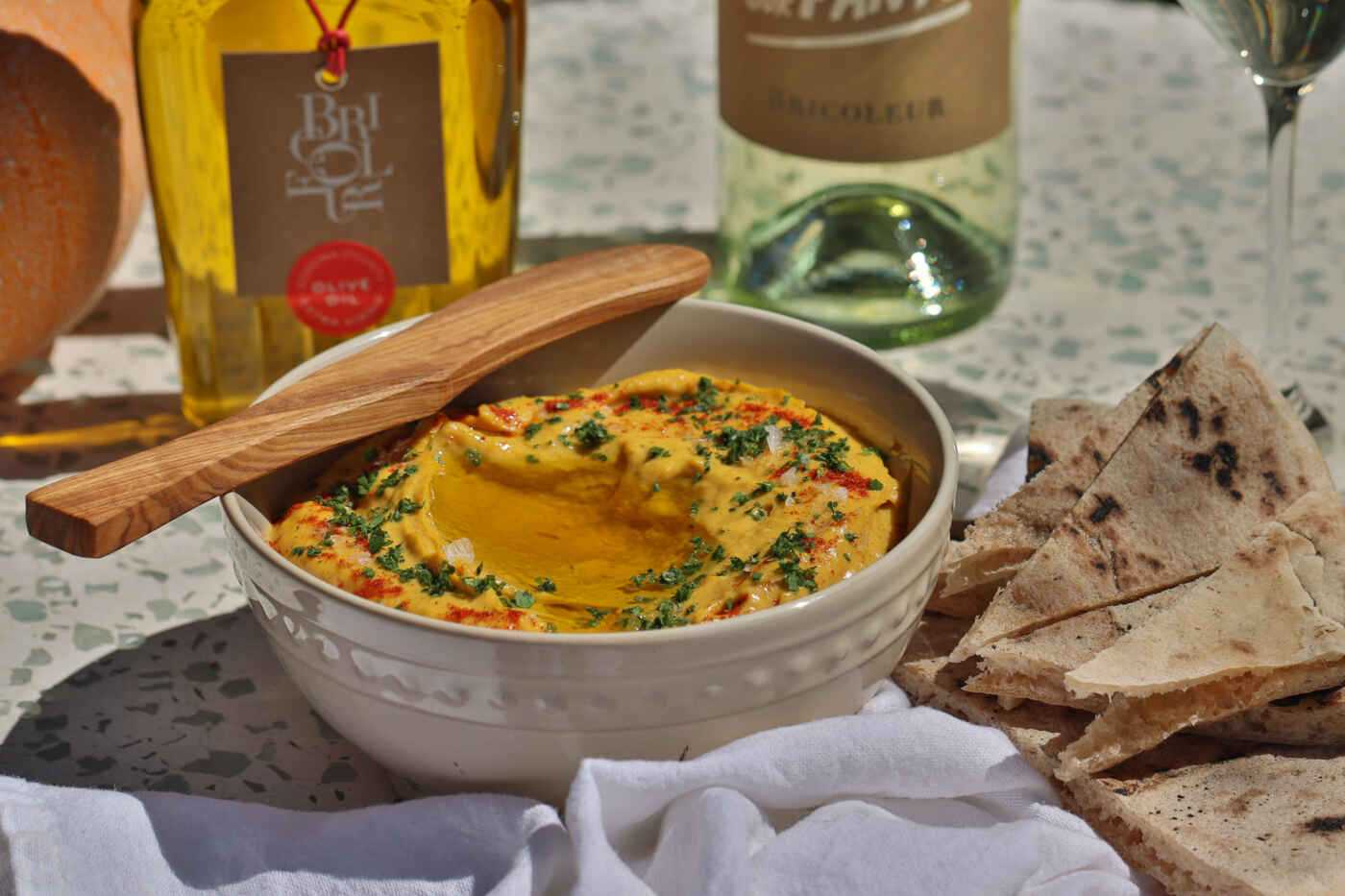 ROASTED BUTTERNUT SQUASH HUMMUS
Created by Chef Bellec
Yield 12 servings
Ingredients:
1 ¼ lbs butternut squash – peeled and diced 1 inch
3 tablespoons Bricoleur Vineyards extra virgin olive oil
1 teaspoon ground cinnamon
Sea salt and pepper to taste
12.5 oz canned chickpeas – washed/rinsed
½ cup organic Greek yogurt
¼ cup tahini paste
2 whole fresh squeezed lemons
4 teaspoon minced garlic – or use a micro plane
1 teaspoon siracha or hot chili sauce
¼ cup maple syrup
toasted pita or freshly grilled bread
Directions:
Preheat the oven to 400 F degrees.
Place the butternut squash on a sheet pan and drizzle with the olive oil. Sprinkle with the cinnamon, 2 teaspoons salt, and 1 teaspoon pepper and maple syrup. Toss with your hands and spread the squash out in one layer on the pan.
Roast for 25 minutes, until tender, and set aside for 15 minutes to cool.
Reserve 1/4 cup of squash for the garnish and transfer the rest to the bowl of a food processor (Vitamix). Add the chickpeas, yogurt, tahini, lemon juice, garlic, Sriracha, 1 tablespoon salt, and 1 teaspoon pepper, and pulse until coarsely processed but not pureed. Add 1/4 cup of the reserved chickpea liquid and pulse a few times to combine. If the hummus is too thick, add more liquid a few tablespoons at a time. Taste for seasonings, transfer to a serving bowl, garnish with the reserved butternut squash, drizzle with extra virgin olive serve at room temperature with toasted pita bread or grilled baguettes.
Bon Appetit!
Post navigation