Grilled Sustainable King Salmon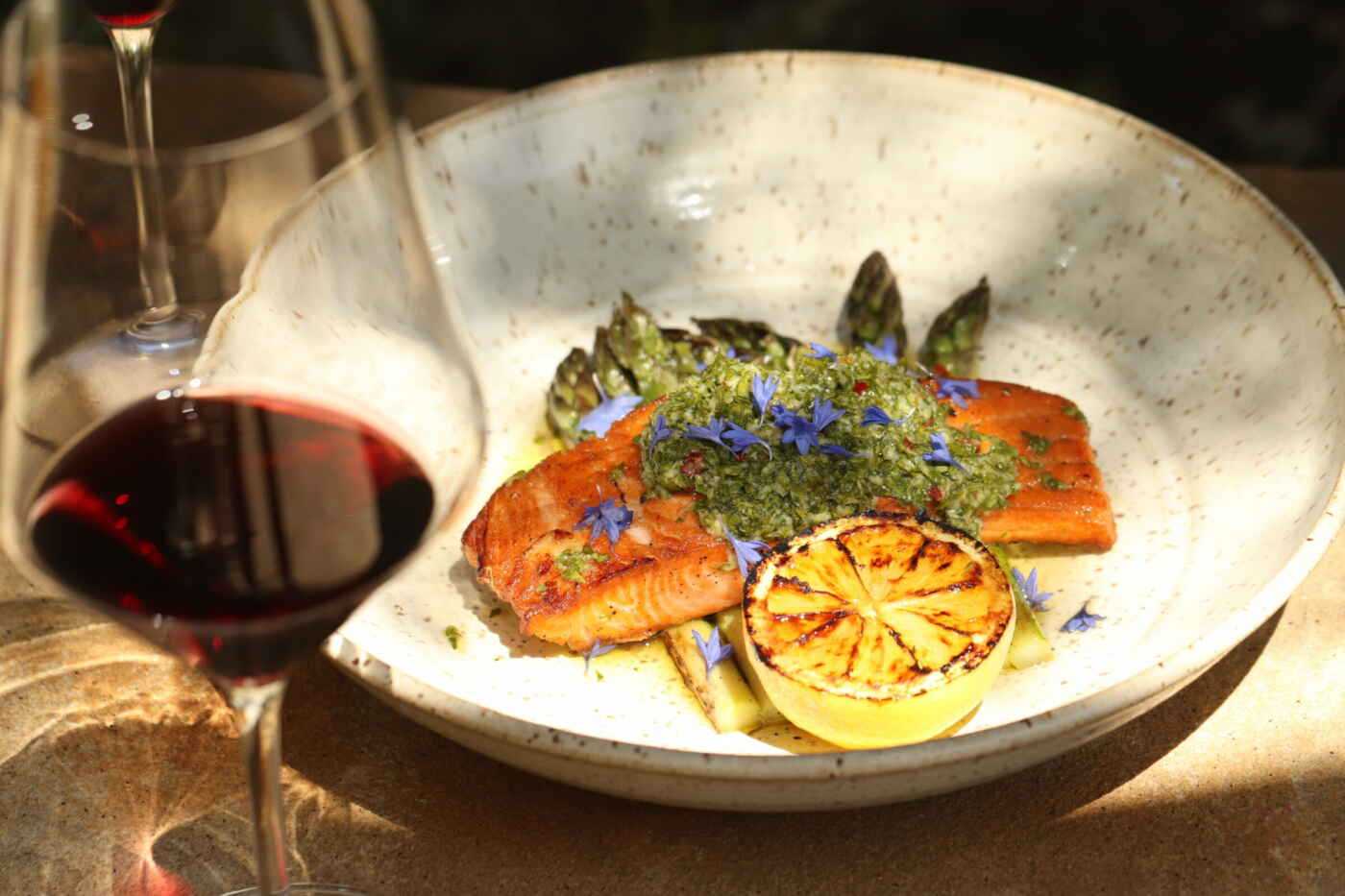 GRILLED SUSTAINABLE KING SALMON
with Parmesan & Parsley Gremolata, Grilled Asparagus, and Edible Flowers
Created by Chef Bellec
Yield 4 portions
Ingredients:
4 bunches – Large Green Asparagus
4 Sustainable king salmon fillet, skin on – 7oz portion size
4 fresh garlic cloves
1 bunch fresh Italian flat leave parsley
5 whole lemons – 2 to grill and 2 for the gremolata, 1 for squeezing on top of salmon
½ teaspoon chili flakes
8 oz aged parmesan – or any other dry cheeses like pecorino
¾ cup Extra virgin olive oil
Sea salt & fresh cracked white pepper
Edible flower's petals – Bachelor Buttons
Directions:
Cut bottom ends of the asparagus and trim them to the same length – toss with extra virgin olive oil, salt & peppers, and grill on a very hot grill, turning on all sides evenly – keep slightly crunchy.
On a hot grill mark salmon fillet seasoned with olive oil and salt and pepper. Cook evenly on each side for about 3 minutes (depending on the thickness of your salmon fillet portions), when cooked to your desired doneness squeeze 1 fresh lemon juice on top.
On the same grill – grill mark halves lemons until blackened. Set aside and serve with salmon.
Chop the fresh washed parsley. Set aside. With a micro-plane make lemon zest, and add to parsley. Add chili flakes, olive oil (1/2 cup), shaved parmesan cheese (use micro-plane as well to shave parmesan), mix well and seasoned to taste with lemon juice and salt & pepper.
In a large hot plate display grilled asparagus in the middle of the plate, put grilled salmon on top of the asparagus stem without covering the tips, and top salmon fillet with parsley and parmesan gremolata sauce. Sprinkle with Edible flowers. Serve grilled lemon on the side.
Bon Appetit!
Post navigation