Shipping Information
States We Ship To
Shipping valid only to Alabama, Arizona, California, Colorado, Connecticut, Florida, Georgia, Idaho, Illinois, Indiana, Kansas, Kentucky, Louisiana, Maine, Maryland, Massachusetts, Michigan, Minnesota, Missouri, Montana, Nevada, New Jersey, New Mexico, New York, North Carolina, Ohio, Oklahoma, Oregon, Pennsylvania, South Dakota, Tennessee, Texas, Virginia, Washington, Wisconsin, and Wyoming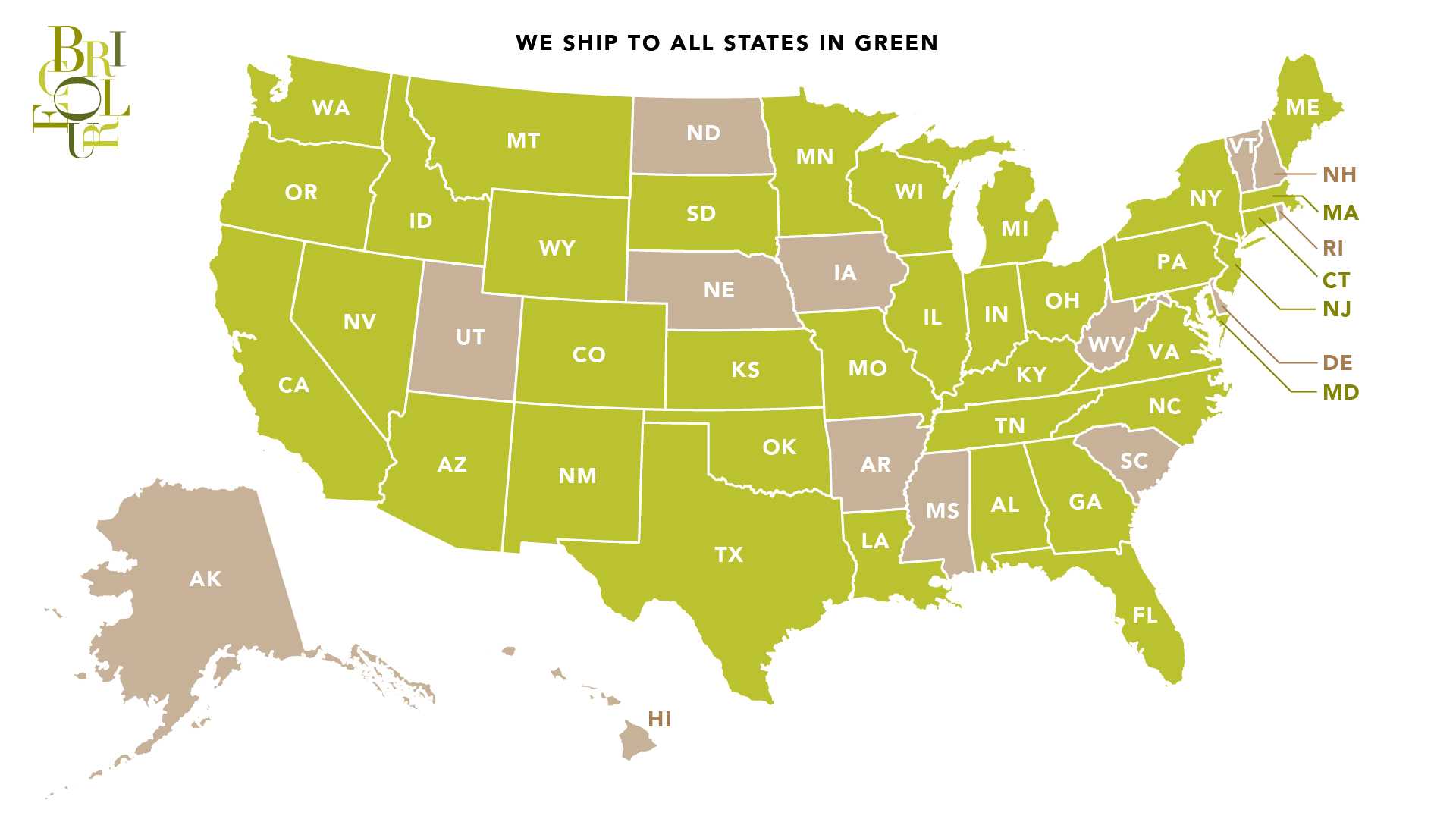 Shipping Methods and Costs
Shipping charges are calculated during checkout and include product-handling costs. The shipping carrier is determined by the warehouse based on the shipping destination unless alternative arrangements have been made for Wine Club shipments.
Orders placed by 5:00 PM Pacific Time will generally ship the next business day, pending compliance and credit card verification. However, express shipping is not available for Saturday or Sunday deliveries. Shipping does not occur on major holidays or weekends
Delivery Information
Standard delivery typically takes 7 to 10 days, subject to compliance and credit card authorization. Deliveries are made Monday through Friday, excluding holidays. Shipping wine to hotels, motels, or licensed beverage facilities outside of California is prohibited by state laws.
If you have any questions about your order, please email us at: info@bricoleurvineyards.com or call/text us at: 707-857-5700.
Delivery Requirements
A signature from an individual over the age of 21 is required for receipt of all wine shipments
Tracking Your Shipment
Tracking information for shipments is provided via a tracking link in the "Shipment Confirmation" email. However, it may take up to two business days for tracking to appear due to carrier information delays.
In case of extreme weather conditions, the release of shipments may be delayed ensuring the highest product quality upon arrival.
Out of Stock Items and Substitutions
If certain wine vintages are out of stock, they may be replaced with a comparable vintage or varietals.
For assistance, please call 707-857-5700 or email info@bricoleurvineyards.com
Bottle Limits and Availability
Product availability and wine purchase limitations may be regulated by state laws, which could affect order fulfillment.
Credit Card Refunds
Credit card refunds are processed upon receiving the returned shipment and may take 1-2 billing cycles to appear on the statement. Canceled and/or returned orders are subject to a 25% restocking fee.
Returns Policy
For information on our policies, please see our Returns and Cancellations page.