Fennel & Bacon Velouté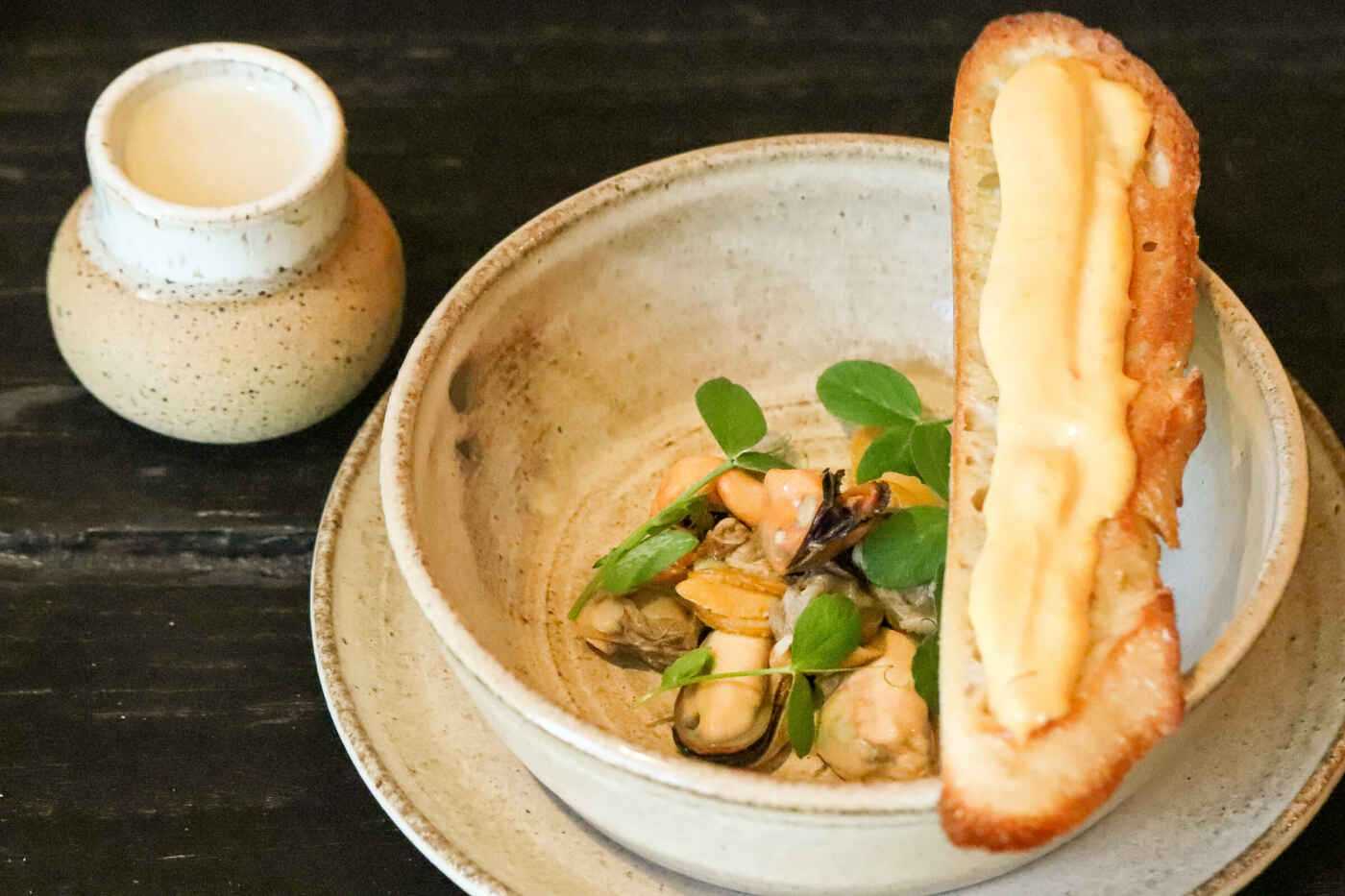 FENNEL & BACON VELOUTÉ
with bodega bay mussels & clams – baguette croutons
Created by Chef Bellec
Yield 4 portions
Ingredients:
3 large fennel bulbs – washed and chopped
1 Spanish onion – peeled and diced
1 leek – washed and chopped (white part only)
3 cloves of fresh garlic
2 Lemons – juiced
1 sprig of fresh thyme
2 bay leaves
6 whole star anise
1 tablespoon anise seed – toasted
1 cup double-smoked bacon – diced
1 quart chicken stock
2 cups heavy whipping cream
½ lb fresh mussels – raw, shell on – tripled wash under cold running water
½ lb fresh clams – raw, shell on – tripled wash under cold running water
¼ bottle of white wine
1 fresh baguette
1 pinch of fresh saffron thread
Extra virgin olive oil ½ cup
½ bunch chive–chopped
Fresh sea salt & white pepper to taste
Directions:
In a large sauce pot sweat at medium heat (no coloration) the leek, ½ of the onion, bacon and the fennel with ¼ cup of extra virgin olive oil – set aside remaining oil. When soften add cream and chicken stock, thyme, bay leaves, star anis and toasted anis seeds – bring to a boil for 5 minutes and turn down heat to a light simmer – cook until fennel is soft.
Drain half of the cooking liquid – In a food mixer blend everything together until smooth and had cooking liquid set aside earlier to desire thickness. Check seasoning and add salt and white pepper to taste. Set aside and keep warm.
In a food processor mix garlic and remaining olive oil (1/4 cup) until smooth paste, mix in by hand with a spatula fresh saffron. Check seasoning with salt & pepper to taste, set aside room temperature.
In a large sauce pan at medium heat saute onion until soft and translucid, add tripled washed raw clams & mussels, saute for 1 minutes at high heat, add white wine and cover pot with lid. Boil until all shellfish are open – set aside to cool down a bit until being able to handle and remove meat from shells, strain cooking broth and keep shellfish meat inside.
Slice baguettes in an angle about 1/2-inch-thick slices. Toast until golden brown and brush garlic-saffron spread. Set aside room temperature.
Before serving the fennel and bacon velouté, bring it to a boil and add cooking broth from shellfish – in a warm deep bowl add warm shellfish meat, poor fennel and bacon velouté on top, served baguettes croutons on the side and sprinkled chopped chives on top of the velouté.
Bon Appetit!
Post navigation