Brioche French Toast w/ Blueberry Compote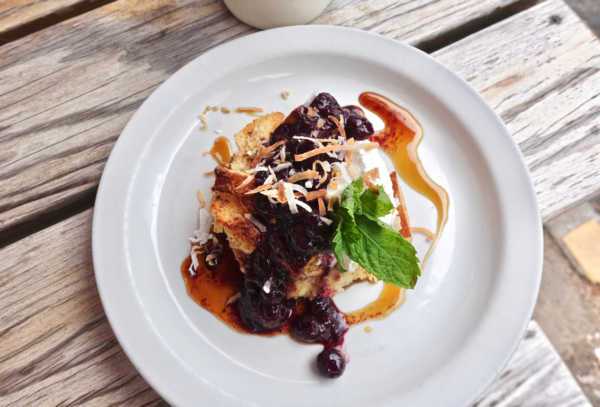 Recipe by Chef Spencer Ivankoe
The Brioche French Toast
Ingredients
1 loaf of brioche bread
8 eggs
1 1/2 cups half n half
1 1/2 cups milk
2 tbsp sugar
1 tsp vanilla extract
2 tbsp cinnamon
pinch of salt
Directions
Cut the brioche into 1 inch piece cubes.
Grease a half hotel pan with non stick cooking spray.
Place the brioche bread cubes into the hotel pan.
In mixing bowl, whisk together the eggs, half n half, milk, sugar, vanilla extract, cinnamon, and salt.
Pour mixture over the brioche bread.
Cover with saran wrap and refrigerate overnight.
Preheat oven to 350 degrees.
Bake for 40 minutes.
Let cool before cutting.
The Blueberry Compote
Ingredients
1 bag of frozen blueberries
1 orange (juiced)
1 orange (zested)
1 1/2 cups of sugar
4 tbsp of cinnamon
pinch of salt
Directions
In a pot, add all the ingredients.
Reduce the blueberry compote on medium heat.
Cook for about 20 minutes, until it becomes syrupy.
The Whipped Cream
Ingredients
1 cup heavy cream
1/4 cup confectionary sugar
1 tbsp vanilla extract
Directions
In a mixing bowl, whisk together all ingredients until you form the consistency you want.
Garnish / Assembly
Ingredients
4 pieces of the brioche french toast
Warm Blueberry Compote
Warm Maple Syrup
Coconut Flakes
Fresh Mint Sprigs
Whipped Cream
Directions
Preheat oven to 350 degrees.
Warm up the brioche french toast until its hot.
Place french toast on a plate.
Spoon a generous portion of blueberry compote on top.
Garnish with whipped cream, coconut flakes, and fresh mint sprigs.
Drizzle warm maple syrup on top.
Post navigation