How to Make Home Grown Bloody Mary Mix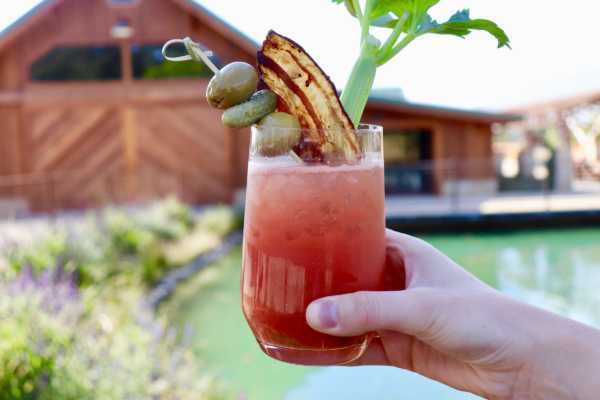 Recipe by Sarah Citron
Do you have extra tomatoes lying around your house and not sure what to do with them? Make this home grown and home made Bloody Mary Mix! The good news…it's super simple to make! Also, once the mix is made, it'll last a while in the fridge and forever in the freezer, so making a Bloody is as easy as adding your favorite vodka and garnish.
**This must be made at least the night before you plan to drink it, so it can sit overnight.
Bloody Mary Mix
INGREDIENTS
12 very ripe beefsteak tomatoes
1 cup water
6 tablespoons of jarred grated horseradish
2 tablespoons Worcestershire sauce
6 big dashes of Tabasco OR your favorite hot sauce
1 teaspoon salt
1 ounce fresh lemon juice
1 ounce olive brine (just the liquid from whatever green olive jar you have on hand)
1 full teaspoon of coarse-ground black pepper.
DIRECTIONS
Freeze the tomatoes over night.
Boil water in a large pot.
Add the tomatoes to the boiling water.
Leave the tomatoes in the boiling water until the skin naturally starts pealing off and the core is no longer frozen.
Peal the remaining skins off of the tomatoes.
Transfer the pealed tomatoes into the blender.
Puree until very, very smooth, about 3 minutes.
Strain through a fine-mesh sieve into a small pitcher.
Add the grated horseradish, water, Worcestershire sauce, Tabasco OR your favorite hot sauce, slat, fresh lemon juice, olive brine, ground black pepper.
Transfer mixture to a blender, add another 1 cup water, and puree until very, very smooth, about 3 minutes.
Cover and refrigerate until cold, at least 2 hours.
Stir 1 shot of vodka into the glass; taste, and add more vodka as desired.
Garnish each glass with desired toppings. Anything from a celery stick, olives, jalapeño, shrimp & BACON!
**ENJOY**
Post navigation