Eggs Bennedict with Ham and Yuzu Hollandaise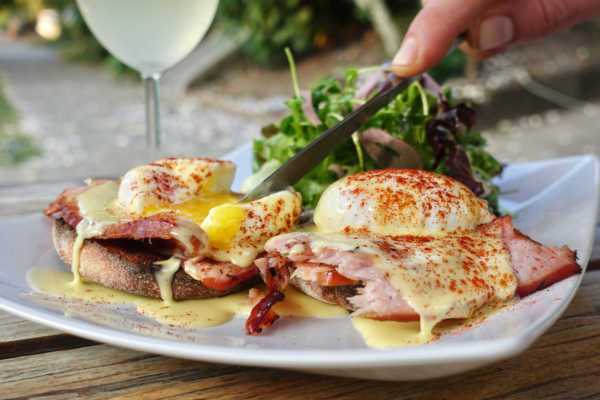 Recipe by Chef Spencer Ivankoe
Poached Eggs
Ingredients
2 eggs
1 teaspoon kosher salt
2 teaspoons white vinegar
Directions
Heat the water.
Add 1 teaspoon kosher salt and 2 teaspoons white vinegar and bring to a simmer over medium heat.
Crack 1 very fresh cold large egg into a small ramekin.
Use the handle of a spatula or spoon to quickly stir the water in one direction until it's all smoothly spinning around.
Add the egg: Carefully drop the egg into the center of the whirlpool. The swirling water will help prevent the white from "feathering," or spreading out in the pan.
Let it poach: Turn off the heat, cover the pan and set your timer for 5 minutes. Don't peek, poke, stir or accost the egg in any way.
Lift it out: Remove the egg with a slotted spoon and serve immediately.
The Yuzu Hollandaise
Ingredients
10 egg yolks
1/4 cup yuzu juice
1 tsp baking soda
300 grams melted butter
1 tbsp of salt
Directions
Create a double boiler by filling up a wide pot with water, and bring water to a boil.
Place a mixing bowl on top of the pot, and reduce to low heat.
In the mixing bowl, pour in the eggs and yuzu juice.
Over low heat, whisk the eggs and yuzu juice for about 3 minutes, until the mixture doubles in size.
Put egg mixture into food processor and slowly drizzle in the melted butter and whisk until you form a nice smooth ribbon consistency.
Season with a pinch of salt.
The Assembly/ Garnishes
Ingredients
1 lb of thick sliced country ham
12 english muffins
Yuzu Hollandaise Sauce
4 tbsp Paprika
Mixed Greens
Olive Oil
Lemon Juice
Pinch of  sea salt
Directions
Toast english muffins extra crispy.
Grill or sauté the ham until golden brown.
Place your english muffins on the plate.
Place your ham on top of muffins.
Drizzle your preferred amount of hollandaise on top of ham.
Garnish with a pinch of sea salt and paprika.
In a bowl mix your mixed greens, olive oil, and lemon juice.
Post navigation