Spaghetti All'Amatriciana with Insalata Tricolore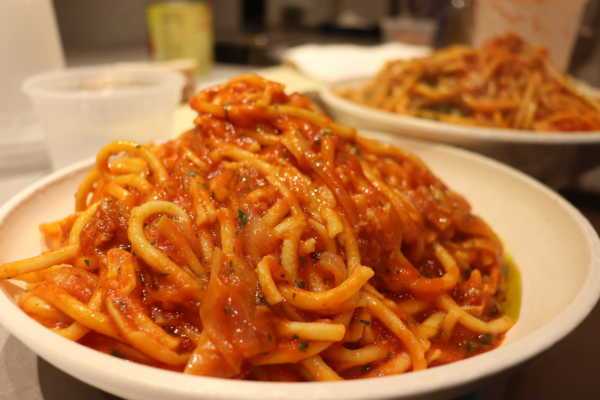 Recipe by: Chef Shane McAnelly
This incredible dish was featured on our Quarantine Kitchen Live Episode 1 on March 28, 2020. We had such a great time cooking along with everyone who joined us on Zoom. If you missed it here is the recipe with step-by-step instructions to recreate the dish. Don't forget to pair it with our 2017 Old Vine Zinfandel! With our Zinfandel being an Old Vine style, it creates a perfect balance of fruit and spice with a well-balanced finish. This is great for pasta dishes!
We thought our Zinfandel paired really well with the Spaghetti All Amaticiana because the Spicy cherry flavors that the Zinfandel delivers it cuts the acidity in the tomato-based sauce and gives it a zesty flavor in the meal when paired together.
Ingredients:
Serves 4. Or 2 if you're REALLY hungry
Insalata Tricolore – Salad
1 pack of 5 oz. arugula
2 yellow endives, if not available just get extra arugula and radicchio
1 small head of radicchio
2 lemons
1 small shallot
1 clove of garlic
2.5 oz. of good quality extra virgin olive oil
Salt
Fresh cracked black pepper
1 oz. pecorino cheese – option to use parmesan cheese (for garnish)
Spaghetti All'Amatriciana – Pasta
16 oz. package of spaghetti or bucatini
1 small yellow onion (recipe will only require ½ of an onion)
4 oz. pancetta, bacon will work if no pancetta available (optional for non-meat eaters)
4 cloves of garlic
1 28 oz. can of San Marzano tomatoes, whole peeled (any other whole tomato or tomato puree will work just make sure its 28 oz.)
1 oz. of extra virgin olive oil, plus a little bit more to garnish
2 sprigs of parsley – option to use dried parsley
2 sprigs of oregano – option to use dried oregano
2 oz. of pecorino cheese – option to use parmesan cheese (for garnish)
A pinch red pepper flakes
Salt
Fresh cracked black pepper
Directions:
For the Salad Greens:
Open pre-washed arugula and add to a large mixing bowl. If arugula is not pre-washed, wash in cold water and dry with a towel or salad spinner. Cut the endives in half diagonally and separate leaves into the mixing bowl. Wash the exterior of radicchio with cold water and wipe down with a dry towel. Cut radicchio in half. With the cut side down on the cutting board, cut in half again. Cut the radicchio crosswise into 1/4" strips and add to the mixing bowl.
For the Vinaigrette:
Peel the shallot and cut into very small dice. Peel one clove of garlic and smash with the side of your knife. Chop garlic until it becomes a very fine paste. Add the garlic and shallot into a small mixing bowl along with a pinch of salt and a few turns of fresh ground black pepper. Cut your lemons in half and squeeze the juice into the bowl. Whisk in the olive oil. The dressing will separate (it's not emulsified), so keep the whisk close by to whisk it right before dressing the salad to ensure even distribution.
To Finish:
Whisk the vinaigrette and add to the bowl of greens. Season with a heavy pinch of salt and a few turns of freshly cracked black pepper. Toss gently with clean hands or tongs until dressing is evenly dispersed. Place dressed salad on a serving platter and garnish with freshly grated pecorino cheese.
For the Pasta:
Place a large pot of water on the stove on high heat. Generously season the water, it should taste as salty as the sea. Once the water is up to a boil add the spaghetti. Set a timer for one minute less than the package suggests. It will finish cooking in the sauce. When it is time to drain the pasta, be sure to reserve a couple of tablespoons of the cooking water.
Cut pancetta or bacon into ¼" by ¼" pieces. Place a large saute pan or pot over medium-high heat. Make sure this pan/pot is large enough to hold all of the pasta and sauce. Add 2 tablespoons of extra virgin olive oil into the pan. When the oil just barely begins to smoke add your pancetta/bacon and turn the heat down to low/medium. Turn the bacon pieces over a couple of times to ensure all sides get cooked evenly. While the bacon is cooking, cut the onion in half and remove the skin. Cut one half into thin strips, the other half you can reserve for another use. Peel 3 cloves of garlic and slice as thin as you can. The bacon should take about 3-5 minutes to fully render and become crispy. Remove bacon from the pan onto a small dish, making sure to leave the olive oil and rendered bacon fat in the pan. It will be added back in later.
In the same pan, add the onions, red pepper flakes, a couple of turns of freshly cracked black pepper and a pinch of salt and return to medium heat. Cook the onions until they start to break down and lose their crunch, about 5 minutes. At this point add the garlic and cook for an additional 2 minutes until the garlic becomes fragrant. Open the can of tomatoes and place into a medium mixing bowl. Using clean hands, smash the tomatoes until they become uniformly chunky. Add the tomato into the pan with the onions and garlic and return to medium heat. Add the bacon back into the pan. Cook for about a minute and add the cooked pasta. Pick leaves off fresh herbs and add to the pan.
Add the reserved cooking water and return pan to the heat and cook until the sauce coats the noodles and doesn't pool up in the pan. Place on a large serving platter and garnish with freshly grated pecorino and a hearty drizzle of high-quality olive oil.
Post navigation