Shrimp Tinga Tacos with Pistachio Guacamole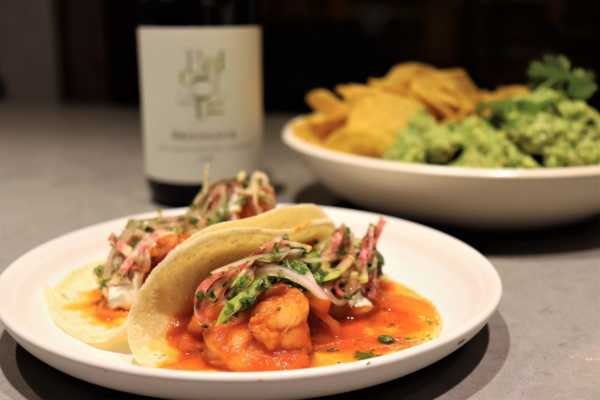 Recipe by: Chef Shane McAnelly
This incredible dish was featured on our Quarantine Kitchen Live Episode 2 on April 4, 2020. We had such a great time cooking along with everyone who joined us on Zoom. If you missed it here is the recipe with step-by-step instructions to recreate the dish. Don't forget to pair it with our 2018 Viognier!
The 2018 Viognier pairs amazing with the shrimp tacos because of the spice the tacos tones down the fruity flavors of the Viognier. A lot of Viognier tend to have a slight bit higher alcohol and a little more sweetness too, so the spice of the tacos helps with the balance to make it smoother.
Ingredients:
Shrimp Tinga Tacos with Pistachio Guacamole
4 ripe avocados
1 large yellow onion
2 jalapeno peppers
4 sprigs of cilantro
6 limes
½ cup of pistachios
1 lb of white shrimp, peeled and deveined, tail off size 16-20 or 21-25
1 14.5oz can tomato, whole or diced
 1 can chipotle peppers
 2 cloves
1/8 teaspoon of cinnamon
1 tablespoon of brown sugar
1 tablespoon of red wine vinegar
1 small red onion
1 medium watermelon radish, or 1 bunch red radish
1 8oz container of sour cream  (Local favorite: Clover Sour Cream)
Salt to taste
1 bag of tortilla chips
Corn or flour tortillas, or lettuce cups for serving
(Serves 4)
Directions:
For the Pistachio Guacamole:
4 ripe avocado, medium diced
1/2 small yellow onion, small diced
1 jalapeño pepper, seeds removed fine diced
2 sprigs cilantro, chopped
3 limes, juiced
½ cup pistachios, chopped
1 bag tortilla chips
Salt to taste
Method:
Carefully cut the avocados in half, remove the pits. While the avocados are still in the skin, cut thick slices both ways to create a medium dice. Once all avocados are cut use a spoon to remove the flesh from the skin and put into a medium mixing bowl. Cut the onion in half and dice one half small and add to the mixing bowl, reserving the other half for the shrimp. Stand the jalapeño up on your cutting board holding the stem up with the tip touching the cutting board. Cut 4 sides of the pepper, flesh only, careful not to cut the seeds. Cut these sides into fine dice. Add to bowl. Chop cilantro and add to the bowl. Cut limes in half and, using a lime or lemon juicer, squeeze the juice into the bowl. Rough chop the pistachios and add them to the bowl. Using a whisk, smash the ingredients in the bowl together until preferred consistency. For chunkier guacamole smash less, for smoother guacamole smash more. Season with salt to desired flavor, a little over 1 teaspoon should do it.
For the shrimp tinga tacos:
1# white shrimp, peeled and deveined, tail off size 16-20 or 21-25
½ small yellow onion, cut in thin strips
1 14.5 oz can tomato, whole or diced
1 canned chipotle pepper
2 cloves
1/8 teaspoon cinnamon
1 tablespoon brown sugar
1 tablespoon red wine vinegar
1 tablespoon extra virgin olive oil
Salt to taste
Method:
Peel shrimp and remove the tail. Cut along the back of the shrimp meat to expose the black vein and remove it. Alternatively, you can purchase shrimp that are already peeled and deveined. Using the remaining half of onion from the guacamole, cut it into thin long strips. In a blender add the tomato, 1 single chipotle pepper, cloves, cinnamon, brown sugar, and red wine vinegar. Blend on high until very smooth. Heat a large saute pan over medium-high heat. Add the olive oil and onions and cook until they become translucent, about 3-5 minutes. Add the shrimp and cook until they start to turn from grey to white-ish pink. Add the contents of the blender and bring to a simmer. Turn heat to low and cook 3 minutes until shrimp are cooked through. Season with salt to taste.
For the Radish Slaw:
1/2 small red onion, cut in very thin strips
1 medium watermelon radish peeled, cut in very thin strips (if using red radish no need to peel)
1 jalapeño pepper, no seeds cut into thin strips
2 sprigs cilantro, chopped
2 limes, juiced
Salt to taste
Method:
Cut the onion, radish, and jalapeño into thin strips. You can do this by hand or if you have a mandolin in your cupboard this is an excellent opportunity to put it to use. Once the vegetables are cut add them to a medium-sized mixing bowl. Chop cilantro and add to the bowl. Add lime juice to the bowl and season with salt.
For the Lime Crema:
1 lime, juiced
½ cup sour cream
Salt to taste
In a small mixing bowl mix the lime juice and the sour cream. Season with salt to taste.
To Finish:
Corn or flour tortillas as needed, or lettuce wraps
Tortilla chips
Warm tortillas in a sauté pan. For each tortilla place 2-3 shrimp and some of the tomato sauce you cooked them in. Add a dollop of the lime crema and a little bit of the radish slaw. Enjoy with the chips and guacamole.
Post navigation