Flatbread Pizza with Buffalo Mozzarella, Oven Roasted Tomatoes, Capicollo & Fresh Basil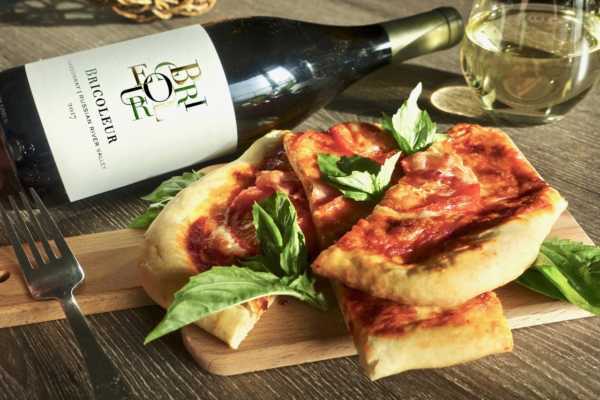 Recipe by Chef Spencer Ivankoe
Pizza Sauce
Ingredients
10 ounces caned crushed tomatoes
6 ounces tomato paste
1 tbsp dried oregano
1 tbsp dried basil
1 tsp onion powder
1 tsp garlic powder 
1 tsp salt 
Directions
In a medium sauce pot, over low heat, combine all ingredients and simmer for 30 minutes.
Puree with a hand blender until smooth.
Pizza Dough
Ingredients
2 cups all purpose flour
1 packet instant yeast
1 tsp sugar
1 tsp salt
2 tbsp olive oil
3/4 cup warm water
Directions
Combine 1 cup flour, yeast, sugar and salt in a mixing bowl.
Add olive oil and warm water.
Mix gently until all incorporated.
Slowly add the other 1 cup of flour.
Kneed the dough and form into a nice shaped ball.
Let rest for 30 minutes.
The Assembly/ Garnishes
Ingredients
6 slices of Capicollo 
1 plum tomato (sliced)
Fresh Mozzarella 
Fresh Basil Leaves
Olive Oil 
Directions
Preheat oven to 425 degrees.
On a baking tray or a pizza stone, place your rolled out pizza dough.
Add desired amount of sauce, cheese, and toppings.
Bake pizza for 15-20 minutes until bubbly and golden brown.
Garnish with basil after it is done cooking.
Post navigation