Chorizo Sausage Gravy with Buttermilk Biscuits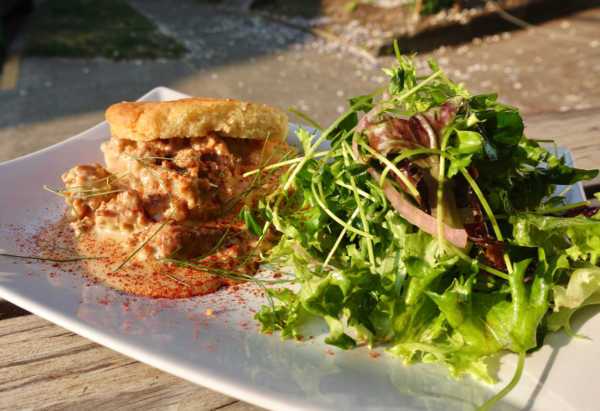 Recipe by Chef Spencer Ivankoe
The Buttermilk Biscuits
Ingredients
4 cups flour
5 tbsp baking powder
1 tsp baking soda
4 tsp sugar
2 tsp salt
12 tbsp cold butter (cut into small cubes)
1 1/2 cups buttermilk
Directions
Preheat oven to 450 degrees.
In a mixing bowl, whisk the flour, baking powder, baking soda, sugar, and salt.
Add in the cold cubed butter with a cutter, cut the butter into the dry ingredients until you form pea sized dough pieces.
Slowly pour in the buttermilk.
Work mixture together with hands to form.
Place dough on a floured surface, and gently work into a ball.
Use a rolling pin and form a rectangle about 1/2 inch thick.
Use a ring mold  cut 12 biscuits.
Place parchment paper on baking tray.
Place biscuits on baking tray, and brush the tops with buttermilk.
Bake for 15 minutes and let cool.
The Sausage Gravy
Ingredients
20 ounces of pork chorizo sausage
1/2 cup flour
5 cups milk
3 tbsp salt
4 tbsp black pepper
1 tbsp cayenne
1 tsp paprika
Directions
Heat up a large sauté pan on high heat, and add the pork sausage.
Cook sausage for about 6-7 minutes.
Stir in the flour.
Add the milk, and bring mixture to a boil.
Add paprika, cayenne, black pepper, and salt.
Reduce until nice and creamy.
Side Salad
Ingredients
Handful of Mixed Greens Lettuce
4 tbsp Olive Oil
1 tbsp Lemon Juice
Salt and Pepper
Directions
Mix all ingredients in a bowl and serve on the side of dish.
Post navigation