California Coast Red Snapper Ceviche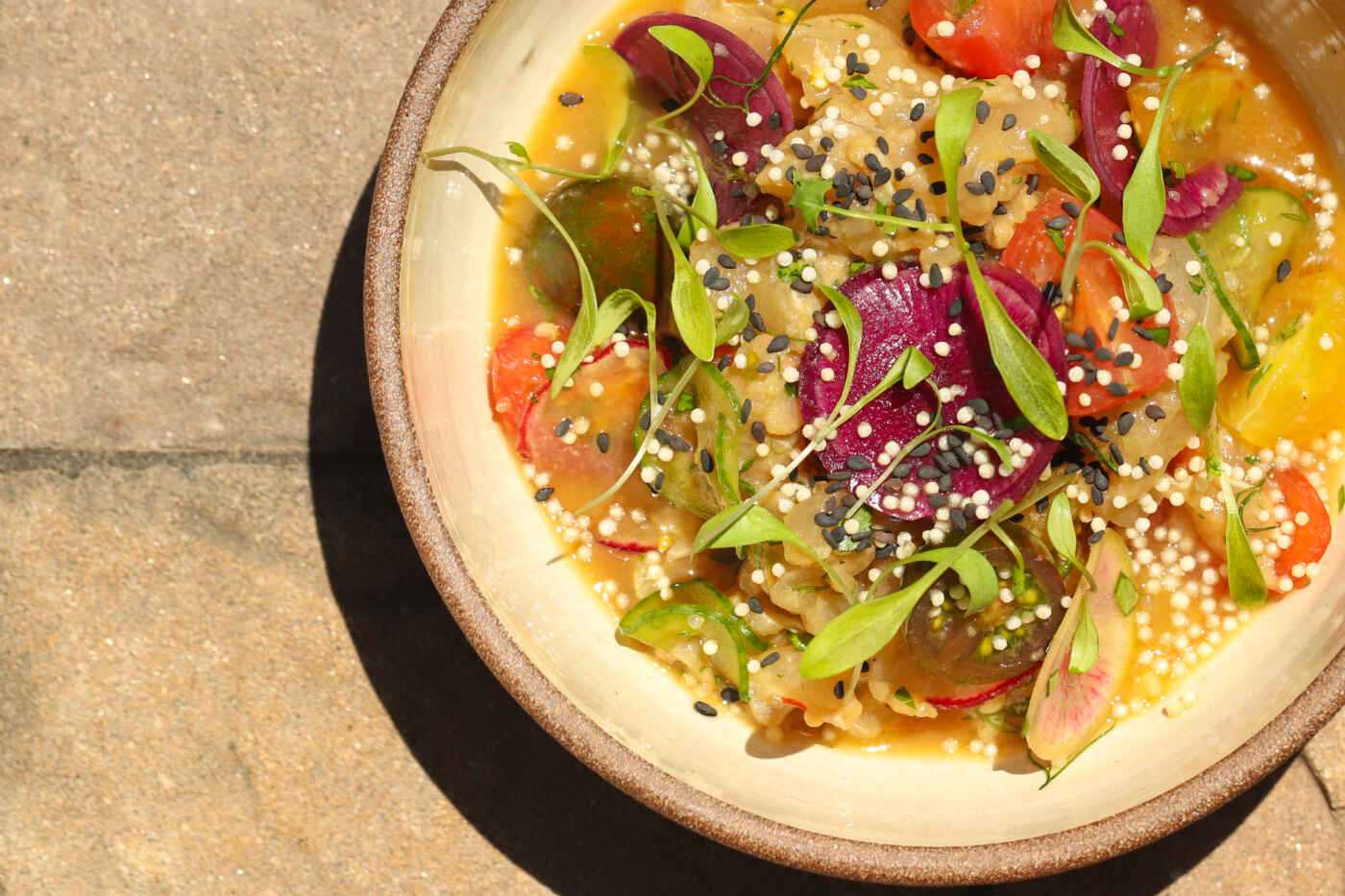 CALIFORNIA COAST RED SNAPPER CEVICHE
with Toybox Tomatoes, Cucumber, Rainbow Radishes, Yuzu Juice, Baby Cilantro, and Bubu Arare
Created by Chef Bellec
Yield 4 portions
Ingredients:
1 lb – Red snapper fillet (skin off – pinned bon off) – ½ inch diced
1 pint – Toybox cherry tomatoes – washed and halved
5 – Baby Persian cucumber – ½ inch diced
5 – Red Breakfast radishes or Watermelon Radishes – sliced very thin with a mandolin
½ cup – Yuzu juice (if not available use fresh lime juice)
¼ cup Extra virgin olive oil
3 tablespoons -Low sodium soy sauce 3 tablespoons
3 pinches – Fresh sea salt
3 pinches – Fresh crack black pepper
1 – Fresh Thai red chili – thinly sliced
Fresh cilantro seedling (whole) for garnish
Fresh cilantro – chopped
½ cup – Bubu arare (Japanese rice cracker bits) – for garnish
Black sesame seeds for garnish
Directions:
Cut red snapper fillet in ½ inch dice – keep on ice while cutting.
Cut toy box cherry tomatoes in half – keep different sizes and shape with horizontal and vertical cuts. Set aside.
Sliced with a mandoline slicer very thin slices of radishes – keep on icy water. Set aside.
Diced 1/8 inch by 1/8 inch baby cucumber.
Cut red Thai chili into thin slices.
Chopped the fresh cilantro. Set aside.
In a stainless-steel bowl (or glass bowl – bit not aluminum) kept on ice mix together the snapper, tomatoes, cucumber, cilantro, yuzu juice, chopped cilantro, chili, salt & pepper, and soy sauce. Let marinate for at least 2 hours on ice in your refrigerator.
When ready to serve, place ceviche in a chilled bowl, and add on top the fresh cilantro seedlings and the rice crisps.
Bon Appetit!
Post navigation