Smoked Salmon Carpaccio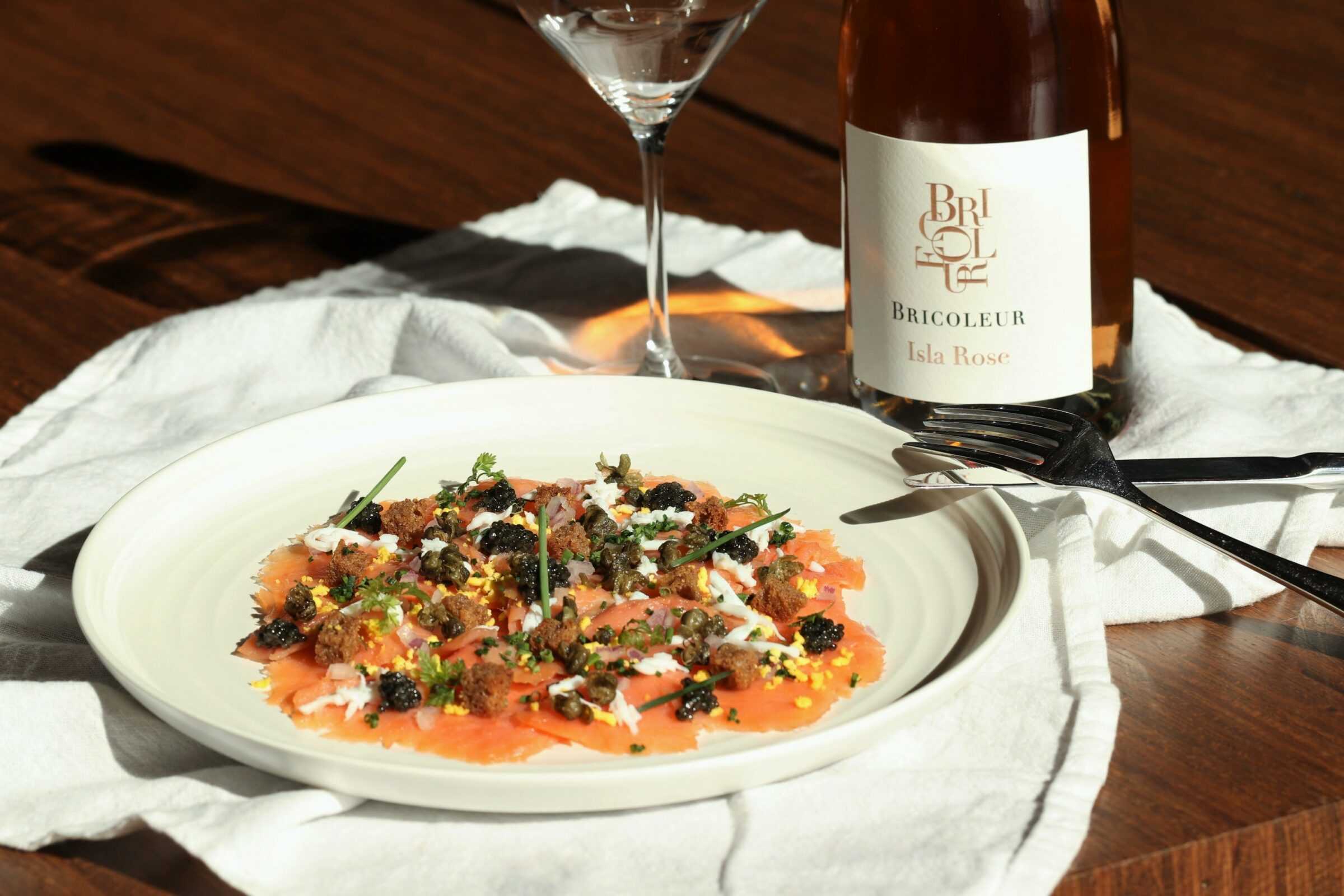 Smoked Salmon Carpaccio with Egg, Caviar, and Rye Croutons
Created by Chef Bellec
Yield 4 appetizers portions
Ingredients:
12 oz. – sliced smoked salmon
2 – fresh organic eggs
5 oz. – rye bread
1 oz. – caviar or salmon roe
¼ bunch – chive
2 oz. – diced red onions
2 oz. – capers
2 cups – canola oil for frying
4 oz. –  sour cream
4 tablespoons – olive oil
Directions:
Cook hard-boiled eggs for 12 minutes in boiling water – cool down under cold running water – peel under running water – cut in halves. Split yolks and whites. using a cheese grater shave the whites and yolks separately – set aside in the fridge
Cut the rye bread into ¼ inch cubes – toss with 3 Tbsp olive oil and toast in a medium heat nonstick frying pan until crispy and golden brown on each side – set aside in a plate with a paper towel to absorb extra grease.
Rinse and dry the capers very well. In a medium-size saucepan add oil and heat to 350F – Ensure your capers are very dry or they will splatter when you deep fry them – fry for 2 minutes until crispy. Set aside in a plate with a paper towel to absorb extra grease.
In an 8 to 10 inch plate carefully plate the sliced smoked salmon in a circular shape. Sprinkle the shaved egg yolk and egg white, add rye croutons, fried capers, chopped chives, and red diced onions. Pour sour cream in a plastic piping bag (if you don't have a piping bag at home use a Ziploc bag and seal it and cut one of the corners or use a plastic bottle) and make dots on top of your sliced salmon. Lastly, drizzle with the remaining extra virgin olive oil & voila it is ready to serve!
Bon Appetit!
Post navigation