Banana Berry Oatmeal Bake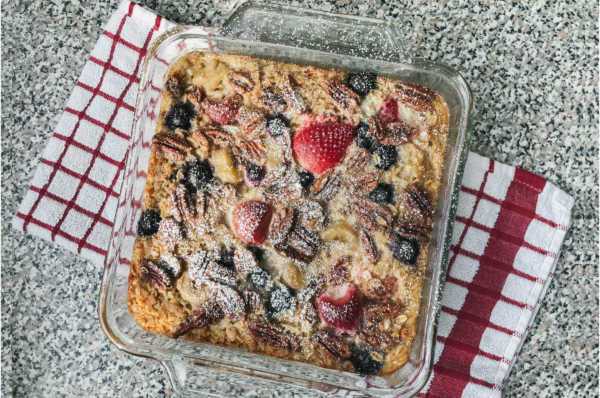 Recipe by Amber Trimble
Ingredients Dry Mixture
2 cups old fashioned rolled oats 
1 tsp baking powder
1 tsp cinnamon
¼ tsp salt
⅓ cup packed brown sugar
¼ cup pecans, separated
Confectioners sugar
Ingredients
Wet Mixture
2 cups milk (we used almond milk)
2 eggs
½ tbsp vanilla extract
3 tbsps honey
1½ tbsp melted butter
2 cups frozen mixed berries
Directions
Preheat oven to 375 degrees. Lightly grease an 8×8 baking dish.
In a medium sized bowl, mix together the oats, baking powder, cinnamon, salt, and brown sugar. Set aside.
In a separate bowl whisk together the milk, eggs, vanilla, honey, and butter.
Layer half the berries in the bottom of the baking dish and top evenly with the dry oat mixture. Pour on the wet mixture, then add the rest of the berries on top along with the roughly chopped pecans.
Bake for 40 minutes. Serve warm, sprinkled with confectioners sugar.
Post navigation