3-Ingredient Samoa Cookies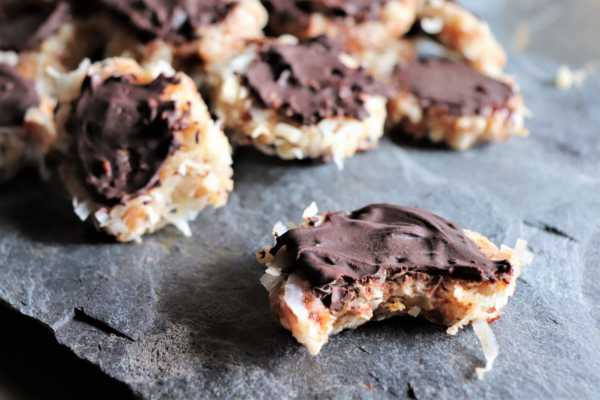 By: Isabella Cirelli
These cookies will be your new obsession. Not only are these cookies deliciously addicting, but they're also HEALTHY. With only three ingredients, these Girl Scout cookie knockoffs are vegan, gluten-free and paleo-friendly. So go and indulge in this not so guilty pleasure.
You Will Need:
1 cup Shredded Coconut
1 cup Medjool Dates
1/3 cup Dark Chocolate Chips
How To:
Step 1: Preheat the oven to 375°F
Step 2: Place shredded coconut on a nonstick sheet and put it in the oven for 5-10 minutes or until lightly toasted.
Step 3: Remove the pit from all the dates.
Step 4: Put the dates in a food processor or blender. Pulse until dates are roughly chopped.
Step 5: Combine the toasted coconut and the chopped dates in a bowl. Mix until it starts to form a ball of dough.
Step 6: Roll 1 tablespoon-size pieces of dough into a ball and then slightly flattened them.
Step 7: Place all cookies on a sheet lined with parchment and transfer to the freezer to harden up a bit.
Step 8: While cookies are in the freezer, add chocolate and coconut oil to a shallow microwave-safe bowl and melt in 20-30 second increments until the chocolate is melted enough to drizzle.
Step 9: Take the cookies from the freezer and drizzle chocolate on to each one in the chocolate and then smooth it with a butter knife .
Step 10: Transfer cookies back into the freezer for 10-15 minutes to let the chocolate harden. Once they've hardened you'll be able to easily remove the cookies from the parchment paper.
Post navigation