Black Pepper Strozzapreti with Rustic Pork Ragu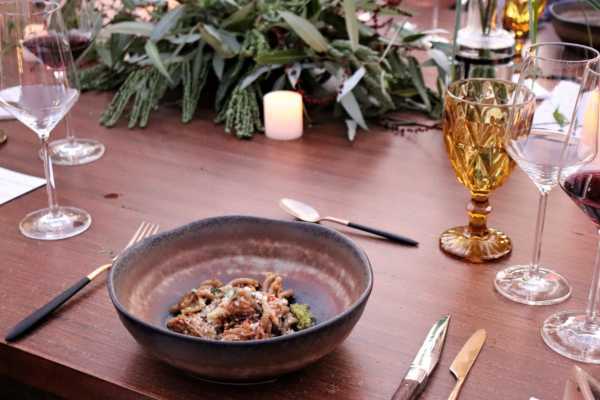 Recipe by: Chef Shane McAnelly
For the Rustic Pork Ragu
Ingredients:
1lb pork shoulder, boneless, cut into 5 equal-sized pieces
¼ cup extra virgin olive oil
1 medium yellow onion, very small dice
¼ cup grated carrot
2 cloves garlic, shaved thin
¼ teaspoon red chili flake
2 tablespoon tomato paste
½ cup tomato puree
1 oz. porcini, dry, rehydrated in warm water 20 minutes and chopped
1 sprig sage, chopped
1 sprig thyme, chopped
1 sprig rosemary, chopped
1 bay leaf
4 cup chicken stock/broth
1 cup white wine
1lb black pepper strozzapreti, or your favorite pasta shape
½ cup roasted sweet peppers, cut into strips
2 tablespoons green olives, chopped
4 oz. butter, unsalted
1 sprig oregano, leaves only
Parmigiano Reggiano, to finish
Directions:
For the Ragu:
Preheat oven to 350. Season pork generously with salt and pepper. Heat a large dutch oven with olive oil. Sear pork on all sides and remove from the pan. Lower heat to low. In the same pan, add onion, carrot, and garlic and sweat for 5 minutes. Once soft, add chili flake, porcini, tomato paste, and herbs and caramelize. Deglaze with wine and reduce by ½. Return pork to pan with tomato puree and chicken stock to cover. Cover and braise in the oven at 350 for 2.5 hours, until tender. Remove pork from the liquid. Rough chop pork and return to the pan with the liquid. Taste ragu and add salt as needed.
For the Pasta:
Cook pasta one minute less than the package suggests in boiling water that is as salty as the ocean. Drain pasta and add to the pan with ragu. Add roasted peppers, olives, oregano, and butter and bring to a simmer until ragu coats pasta. Serve with freshly grated Parmigiano Reggiano.
Post navigation