Baked Eggplant with Baba Ghanoush and Parmesan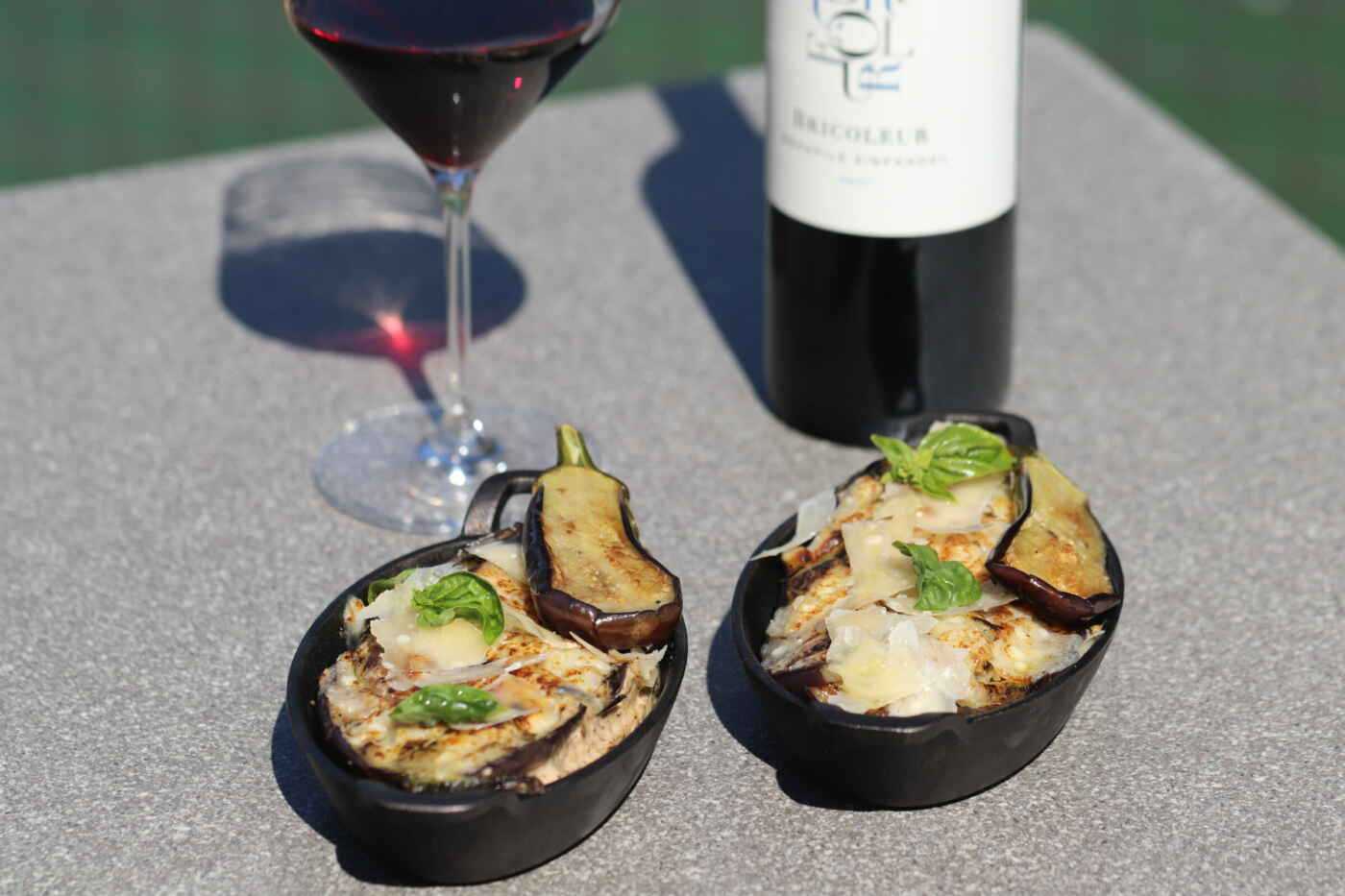 Baked Eggplant with Baba Ghanoush and Parmesan
Created by Chef Thomas Bellec
Ingredients:
6 Large whole eggplant (1 for slicing and 5 for roasting)
1/2 Cup tahini paste
2 Fresh lemon juice
1 Lemon zest
3 Teaspoon sumac powder
1/2 Teaspoon red pepper flakes
1 Teaspoon garlic powder
1 Tablespoon chopped parsley
1 Sprig fresh thyme minced
2 Cups extra virgin olive oil ( 1 cup for roasting eggplants, 1/2 cup for sauté slices, 1/2 cup for puree)
3/4 Cup shredded parmesan
1/4 Bunch fresh basil
Salt to taste
Pepper to taste
Directions:
Punch holes with forks in

6 eggplants

and warp

whole

eggplant with alumina foil, extra virgin olive oil, and a pinch of salt and pepper.

Bake in oven at 375 °F until very tender. 

Scoop eggplant meat out – discard skins.

Mix in a food processor: Eggplant meat, lemon zest, lemon juice, red pepper flakes, sumac tahini, garlic powder, and 1/2 cup extra virgin olive oil until pureed. 

Check seasoning and set aside to cool down.

 In the meantime, slice lengthwise the remaining eggplant – 3/4 inches thick. 

Saute season eggplant slice with remaining 1/2 cup olive oil until golden brown on each side in a nonstick pan – Set aside on a plate with paper town to absorb extra olive oils.

In a cast iron dish or oven-proof clay pot – layered the eggplant and baba ghanoush and the sauteed eggplant slices, adding each layer of the shredded parmesan. Finish on top with more parmesan and bake in the oven at 350 °F for 25 minutes.

Serve immediately out of the oven with fresh torn basil leaves on top as a garnish.
Post navigation