Baked Brie With Fig & Walnut Chutney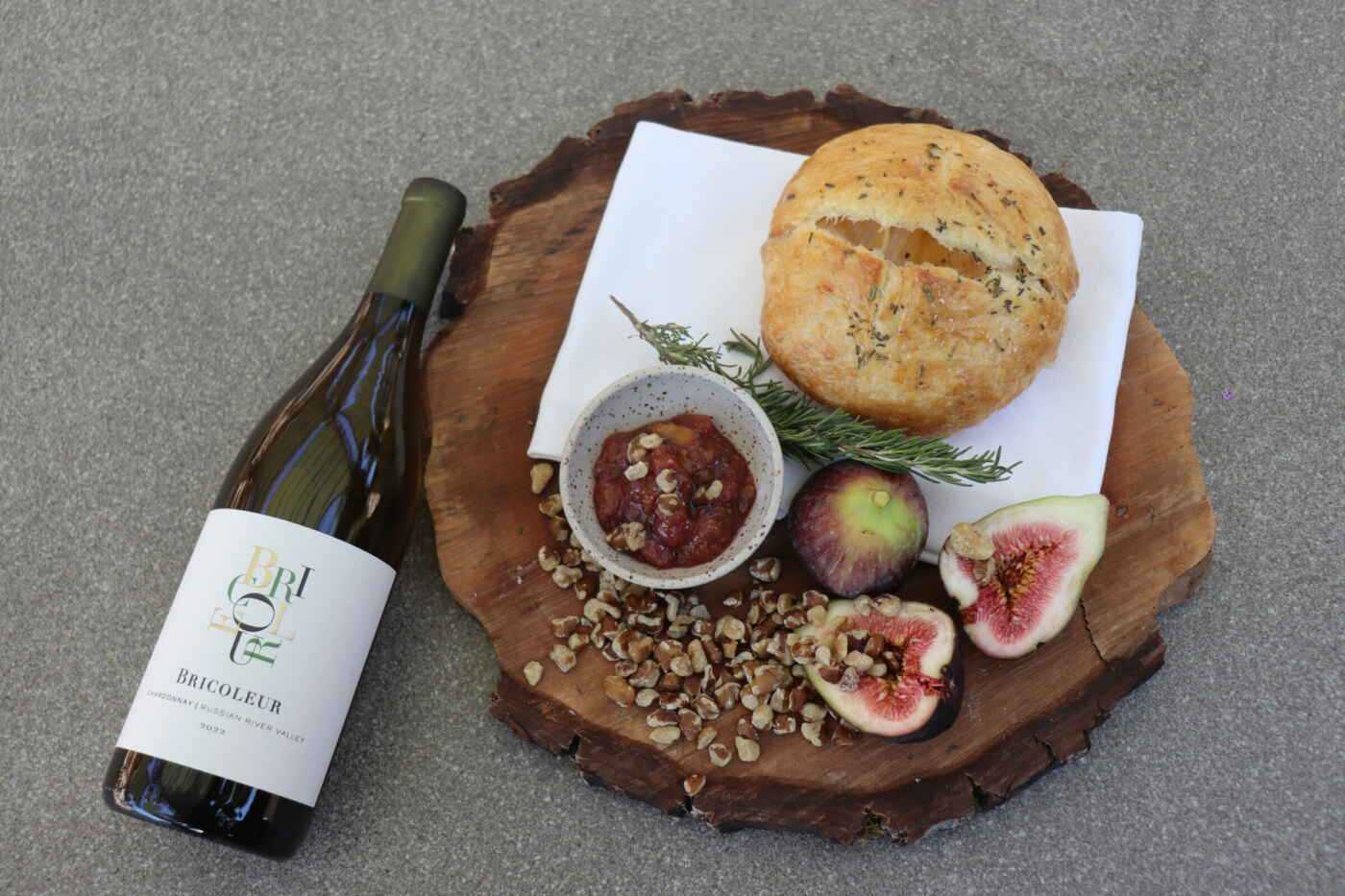 Baked Brie With Fig & Walnut Chutney
Created by Chef Thomas Bellec
Ingredients:
1 Whole wheel brie – 8 oz
1 Sheet frozen puff pastry -10 inch diameter ring x 2
1 Fresh egg
1 Tablespoon water
1 Pinch sea salt + 1/3 tsp salt
1 Pinch cracked black pepper
1 Sprig fresh rosemary minced
1 Sprig fresh thyme minced
1 Tablespoon raw honey
1/2 Cup brown sugar
1/2 Cup apple cider vinegar
2 Cups fresh brown turkey fig, stems removed and quartered
1/3 Cup diced apple
1/3 Cup white onion diced
1/3 Cup raisins
1/2 Teaspoon ground ginger
1/4 Teaspoon ground nutmeg
1/2 Cup chopped walnuts unsalted
Directions:
Thaw puff pastry: Remove puff pastry from the fridge 30 minutes before assembling to allow it to thaw.

 

Preheat oven to 400 degrees °F.

 

Roll out puff pastry

to

2 times

10 inches diameter dough circles –

place

them

on a lightly floured surface—place the brie cheese wheel in the center

of one of the dough

circles

.

Drizzle

brie ri

nd with raw honey, chopped thyme, and rosemary, and sprinkle with cracked pepper and sea salt.

 

Brush the outside of the puff pastry around the brie with egg wash (egg + water) – add 2 puffed pastry dough

circles

on top and seal firmly. Brush with more egg wash and set aside in the fridge for 1 hour to rest.

 

To make the fig chutney,

Soak raisins in a bowl of hot water for 10 minutes.

In

 a saucepan, melt sugar with vinegar. Add the figs, apple, onion, raisins,

salt,

and spices (ginger,

clove

and nutmeg).

Bring to a boil, reduce to low heat, and cook for about an hour, stirring

frequently

.

Remove from heat to cool down, then add chopped walnuts. Serve at room temperature.

 

Use a sharp knife to score the top of the pastry (make a few shallow slits in it) for vents for steam to escape while baking.

 

Bake: Place wrapped brie on the parchment paper on a baking sheet. Bake for 30 minutes. Remove from oven and rest for 10 minutes before serving.

 
Post navigation