2020 Bud Break & Blooms
By: Tom Pierson
Photos: Isabella Cirelli
Bud Break
Bud break marks the sign of a new year in the vineyard. The vines have been dormant since late fall when cool temperatures triggered them to shut down. As you might imagine, the cool temperatures of winter are not conducive to plant growth so the vines shut down to conserve carbohydrates that they will use to push buds and begin growth the following year.

Kick Ranch Sauvignon Blanc showing bud swell and bud break
When soil temperatures begin to rise in late winter and early spring, it is a signal to the vine that it should come out of dormancy for a new season has begun. From the vine's perspective, the goal is propagation, developing mature fruit and seeds that will be eaten by birds and carried off to grow somewhere new. In this sense, bud break is a balance of forming new growth and beginning photosynthesis in a timely manner and doing so when there is minimal risk of damage from frost, potentially inhibiting the plant from achieving its goal.
From the farmer's perspective, the timeliness of bud break is a reason for celebration and a little bit of worry. Frost is our main concern. A night in which temperatures dip well below 30 degrees Fahrenheit can cause significant damage to early plant growth and potentially impact yields. A relatively dry and warm winter has resulted in bud break almost a full month earlier for varieties like Chardonnay and Pinot Noir in 2020. Luckily our estate vineyard is equipped with three frost fans that turn on when temperatures dip into this danger zone, circulating air and keeping new growth protected.

Chardonnay at the estate has a jumpstart on the season
Our Rhone varieties out at Kick Ranch, especially our Viognier and Grenache, are ahead of last year's schedule by a couple of weeks. The Bordeaux varieties, Cabernet Sauvignon and Sauvignon Blanc are right on schedule showing signs of bud swell with no emergence yet.
Kick Ranch has the advantage of being built into the hillside of Spring Mountain which acts as a natural frost protection barrier as cooler air settles to lower elevations. We look forward to getting past the nights where frost remains a threat. This typically is sometime in early May. Kick Ranch will begin growing quickly with rain showers followed by warm spring weather in the forecast.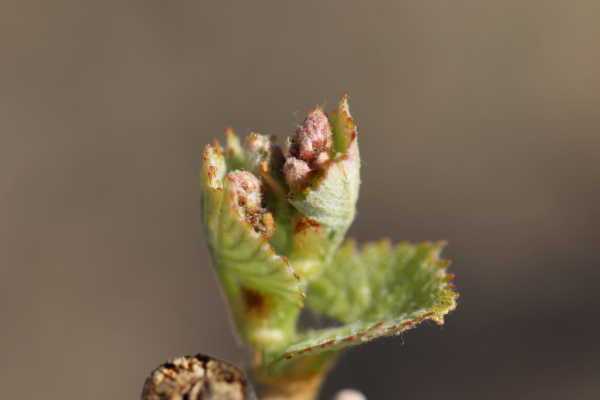 A drier winter has allowed us to get into the fields sooner and we are busily mowing cover crop and cultivating the soil as we prepare to usher in another vintage of Sonoma County grapes.
Estate Blooms
As bud break is in full swing the Bricoleur Vineyards estate is in super bloom. The blossoms of the fruit trees and flowers are too beautiful to not be highlighted.
Post navigation