Shrimp Pad Thai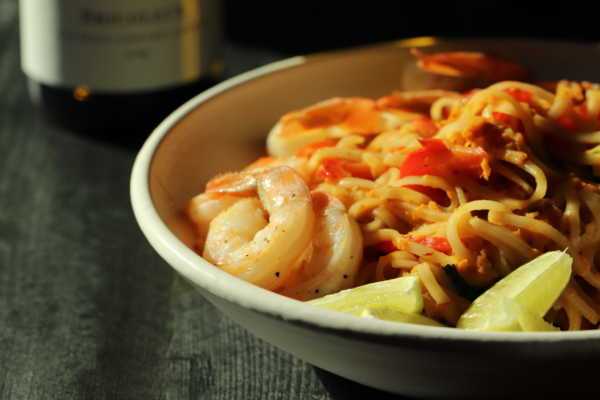 Recipe by: Chef Evan Castro
This fall favorite was featured on "Cooking with Country" Part 5 on October 18, 2020. We loved cooking along with everyone who joined us on Zoom. We appreciate everyone for the support! If you missed it here is the recipe with step-by-step instructions to recreate the dish. Don't forget to pair it with our 2019 Kick Ranch Viognier
This Shrimp Pad Thai is made to be served along with our 2019 Kick Ranch Viognier.
This is one of our favorite pairings! The texture of the silky noodles and the silky white wine complement each other very well. The sweet impression, but the dry flavors of our Viognier are a good counterpoint to the sweet, salty, and spicy flavors of Pad Thai.
Ingredients List
1 lb of uncooked white shrimp, peeled and deveined, tail off size 16-20 or 21-25
7 oz rice noodles
2 cups broccoli florets
1 red bell pepper
1 carrot or 1 cup pre-shredded carrots
2 cloves garlic
3 scallions
1 piece fresh ginger or 1 cube ground ginger
4 tablespoons soy sauce
2 tablespoons fresh lime juice
2 tablespoons rice vinegar
2 tablespoons creamy peanut butter
1 tablespoon sambal or sriracha
½ teaspoon ground ginger
2 teaspoons brown sugar
Black pepper
Roasted peanuts (halved or crushed)
Lime wedges
4 tablespoons olive oil or vegetable oil
Equipment List:
Large skillet
Large pot
Colander
Microplane
Medium mixing bowl
Whisk
Lemon juicer
Directions:
1. Bring a pot of salted water to a boil.
2. Next mix soy sauce, lime juice, rice vinegar, peanut butter, sambal, ground ginger, brown sugar, black pepper, and salt. Whisk until combined then set aside.
3. Heat up a large skillet with oil. Add ginger, garlic, and scallions to the pan. Lightly sauté on medium heat for 2-3 min
4. Add broccoli, carrots, and bell pepper and cook for 7-8min
5. Then cook the rice noodles in the boiling water for 2-3min. once cooked then strain with a colander. Run the noodles under cold water for 1min.
6. Once the veggies are cooked add the sauce to the pan and the noodles as well. Stir with the heat still on for 1-2 min until well combined.
7. Serve with limes on the side and garnish with peanuts over the top.
Bon Appétit!
Post navigation