Pumpkin Risotto with Brown Butter and Sage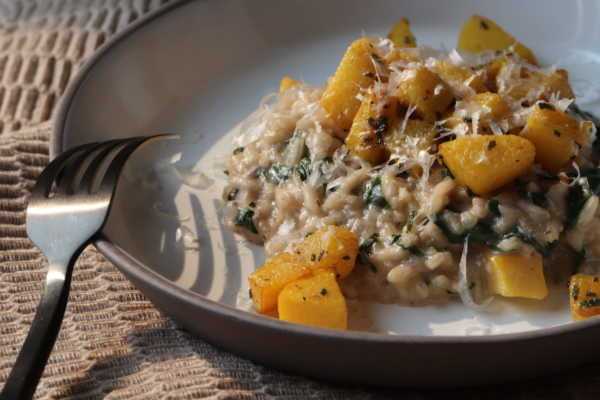 Recipe by: Chef Shane McAnelly
This fall favorite was featured on "Cooking with Country" Part 4 on October 4, 2020. We loved cooking along with everyone who joined us on Zoom. We appreciate everyone for the support! If you missed it here is the recipe with step-by-step instructions to recreate the dish. Don't forget to pair it with our 2019 Estate Chardonnay
This Pumpkin Risotto with Brown Butter and Sage to be served along with our 2019 Estate Chardonnay.
This fall favorite is rich and creamy which pairs beautifully with our newest vintage of Chardonnay. The lovely notes of oak and smooth with flavors of vanilla complement the roasted sweetness of this pumpkin risotto!
Ingredients List (Serves 4)
1 ½ cups of arborio rice (carnaroli also works, other kinds of rice will not)
8 cups of vegetable or chicken broth
4 tablespoons of extra virgin olive oil
1 yellow onion
2 cloves of garlic
1 bunch of fresh sage
½ cup of dry white wine (Use our 2019 Chardonnay!)
1lb of pumpkin or butternut squash (kabocha, a Japanese pumpkin works great too)
½  lemon (juiced)
4 tablespoons of unsalted butter
4 tablespoons of mascarpone cheese
½ cup of parmesan cheese
2 bunches of swiss chard, spinach will be good substitute
Salt and pepper to taste
Equipment List:
Cutting board
Sharp Chef Knife
2 medium pots
1 large saute pan
Wooden spoon or spatula
1 sheet pan
1 medium mixing bowl
1 small saute pan
Directions:
For the Pumpkin Risotto:
1 ½ cups arborio rice (carnaroli also works, other rices will not)
8 cups of vegetable or chicken broth (see our recipe for homemade vegetable broth)
4 tablespoons of extra virgin olive oil
1 yellow onion, diced
2 cloves of garlic, sliced
12 leaves fresh sage, chopped
½ cup dry white wine (use our Chardonnay!)
1lb of pumpkin or butternut squash (kabocha, a Japanese pumpkin works great too)
½ lemon (juiced)
4 tablespoons unsalted butter
4 tablespoons mascarpone cheese
½ cup of parmesan cheese
2 bunches of swiss chard, leaves removed from the stem and ribs (spinach will be a good substitute)
Fresh cracked black pepper to taste
Salt to taste
Method:
Preheat oven to 425 F. Bring a medium-sized pot of salted water to a boil. Place the vegetable or chicken broth in a medium pot and place over medium heat. If it comes to a boil turn down to very low to keep hot. Cut pumpkin or squash into medium dice. In a medium mixing bowl, toss the diced squash with 2 tablespoon olive oil, salt, and pepper to taste. Place seasoned squash on a sheet tray and cook in the oven for 15 minutes, until squash is tender. Prepare an ice bath for blanching of the swiss chard, a large bowl or Tupperware with ice and water. Add swiss chard to a pot of boiling water. Let cook for 1 minute and remove from the pot and immediately place in the ice water. Agitate blanched chard in the ice bath to ensure all leaves cool down as quickly as possible. Once fully chilled, remove chard from the ice bath and wring out all moisture. Place on a cutting board and rough chop the blanched chard. Reserve until final cooking steps.
In a large saute pan, add 1 tablespoon of olive oil, the diced onion and the sliced garlic. Turn heat to low and season with salt and freshly cracked black pepper. Cook slowly until onions are translucent and tender. Next, add the rice and half of the sage and cook, stirring, for about 2 minutes. Add the wine and turn heat to medium. Cook until the wine is completely evaporated, stirring with a wooden spoon or rubber spatula. Using a ladle, add hot stock to rice in 1 cup increments, stirring constantly and allowing liquid to absorb fully before adding more, until rice is al dente and surrounded by fluid, not-too-thick creamy suspension, 25–30 minutes. It should take 2–3 minutes for each addition to be absorbed; if things are moving faster than this, reduce heat to medium-low. Gradual absorption and constant agitation are key to encouraging the starches to release from the risotto, creating its trademark creamy consistency. You may not need all of the hot stock, but err on the side of soup rather than sludge. The finished texture should be more of a liquid than a solid. Start checking the rice after about 15 minutes; the grains should be tender but not mushy, with a slightly firm center that doesn't leave a chalky residue between your teeth after tasting. Do not overcook! When rice is almost finished, add blanched swiss chard and ¾ of the roasted pumpkin. Remove pan from heat, add 2 tablespoon butter and all of the mascarpone, and stir until melted. Gradually add parmesan, stirring until cheese is melted and liquid surrounding risotto is creamy but very fluid. Stir in more hot stock if needed to achieve the right consistency. Taste and season with salt and freshly cracked black pepper.
In a small saute pan, cook the remaining 2 tablespoons butter until it starts to turn golden brown and smell slightly nutty. Add the squash and remaining sage to pan and cook until warmed. Add juice from ½ lemon and remove from heat.
Plate the risotto and spoon squash, sage, and butter mixture over the top. Garnish with more parmesan. Enjoy!
Post navigation