Chili Garlic Shrimp w/ Spinach Artichoke Pesto Pasta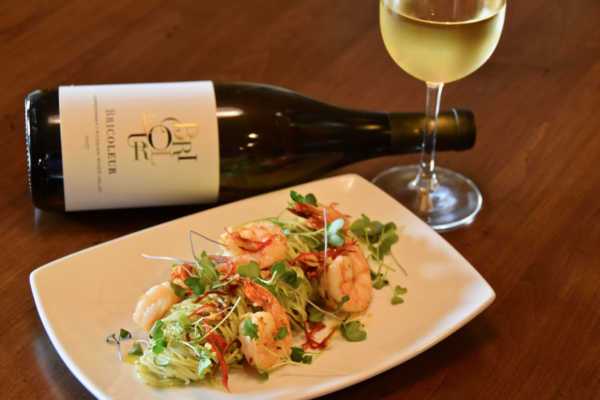 Recipe by Chef Spencer Ivankoe
Pasta Dough Recipe
Ingredients
Tool: Pasta Maker
1 3/4 cup All Purpose Flour
6 Egg Yolks
1 Whole Egg
2 tsp Olive Oil
3 tbsp Whole Milk
Instructions
Arrange flour on clean countertop in a well shape.
Pour the egg yolks, egg, milk, and oil into the center of flour well.
Use your fingers to break up the eggs.
Slowly swirl the flour into the center of the egg mixture in a clockwise motion
When mixture starts to thicken, incorporate the rest of the flour.
Knead the dough over itself until smooth, about 12-15 minutes.
Wrap the dough in plastic wrap.
Let rest for 30 minutes.
Cut the pasta dough into 4 small pieces.
Pass each piece of dough through pasta maker until you have a desired thickness (or use roller by hand).
Once you have perfect pasta sheets, pass through the pasta cutter attachment on your pasta maker (or cut by hand).
Hang pasta on a pasta rack to dry out.
To cook pasta, bring water, salt and olive oil to a boil. Once at boil, add pasta and cook for 5 minutes.
Spinach Artichoke Pesto
Ingredients
3 1/2 cups spinach leaves
1/2 cup olive oil
4 small canned artichoke hearts in oil
3 tbsp lemon juice
3 cups basil leaves
4 garlic cloves (peeled)
1/2 cup shredded parmesan cheese
1 tbsp salt
1 tbsp pepper
Instructions
Place all ingredients into a food processor (except the olive oil)
Turn on the food processor and set to highest speed
Slowly add in the olive oil
Garlic Chili Shrimp
Ingredients
2 tbsp olive oil
1 tbsp vegetable oil
2 garlic cloves (chopped)
1 red chili pepper (sliced)
8-10 large peeled shrimp
1 ziplock bag
Microgreens
Instructions
Combine all ingredients to bag and marinate in the refrigerator for 1-2 hours
Heat pan on medium to high heat
Once the pan is hot, empty all ingredients from bag into it
Cook the shrimp for 1 minutes on each side
Place the cooked shrimp onto of the pasta
Garnish with the sautéed chili, garlic, and micro greens
Post navigation