Grapevine Globe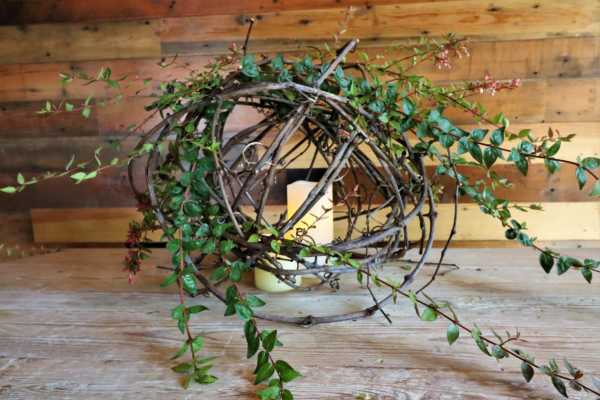 By: Kim Coleman & Isabella Cirelli
Create a unique centerpiece using only grapevines and simple greenery. This creative grapevine globe is the perfect DIY for any season. This globe can be decorated with twinkle lights and can be hung up inside or outside.
You Will Need:
Grapevines (Soak in hot water for about 24 hours if the vines are dry, this makes them easier to work with)
24 Gauge Wire (cut into 3-inch strands)
Wire Cutters
Floral Shears
Gloves
Greenery
Fake Candles
How To:
Step 1: Create two grapevine circles as a base for the globe
Step 2: Start to wrap the vines around the globe.
Step 3: Begin at the bottom of the globe and alternate between wrapping from the bottom and the top each time to ensure an even globe
Step 4: Secure each vine with wire
Step 5: Keep wrapping the vines around the globe to make a complete look. Also, try to leave a little space at the bottom so you can put a candle in the middle at the end.
Post navigation