How To Make a Crowd Pleasing Charcuterie and Cheese Board
Recipe by Chef Spencer Ivankoe
Meat and cheese boards are our go-to for super chill, no stress summer entertaining. You can fill them up with all your favorite cheese, cured meats, fruit, nuts and spreads. Add some Bricoleur Vineyards wine and baguettes and you have yourself a meal! 
Ingredients
Point Reyes Bay Blue Cheese 
Cana de Oveja Sheeps Milk Cheese 
Il Truffelino White Cheddar Cheese 
Marin Petite Breakfast French Brie Cheese 
Shropshire English Blue Cheese
Duck & Pistachio Country Pate
Hot Soppressata
Peppered Salami
Prosciutto
Anjou Pear
Clementines
Dried Apricots
Purple Grapes
Quince Paste
Raw Bricoleur Vineyards Honeycomb
Bricoleur Vineyards Olive Medley
Hot Pickled Peppers
Pecans and Cashews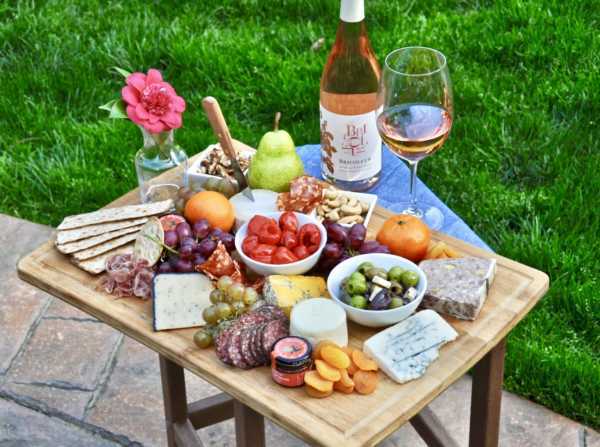 Instructions
Step 1: Find the right board to build your Charcuterie and Cheese spread. (Large cutting boards, marble slabs, slate boards or ceramic platters are great options)
Step 2: Choose a variety of cured meats and salami. Pictured here hot soppressata, peppered salami, proscuitto, and duck & pistachio Country Pate.
Step 3: Use a variety of soft and hard cheese options with varying milk types and color such a Brie, Cheddar, Gouda, Hot Pepper, Mozzarella, Provolone, Blue Cheese, etc.
Step 4: Add some cured olives and colorful antipasto. Pictured here, Hot Pickled Peppers and Bricoleur Vineyards Olive Medle.
Step 5: Add a few spreads, jams and mustards with with a variety of crackers and bread sticks. Pictured here is Quince Paste.
Step 6: Mix in a colorful variety of fresh and dried fruit such as grapes, Anjou pear, dried apricots, and Raw Bricoleur Vineyards Honeycomb .
Step 7: Use a variety of nuts, mix them up! Here we used Pecans and Cashews. Pistachios, and Almonds are also great.
Step 8: And for some finishing touches, add some fresh flowers, fresh herb sprigs such as mint or rosemary.
Step 9: Most importantly, artfully arrange them and have fun making it!
Post navigation