Bricoleur Vineyards on the Road at Cafe Rowan – Portland, OR
We revel in sharing the Wine Country lifestyle – the celebration of exceptional wine with extraordinary food, quiet moments on endless vistas, and living each moment to its fullest. We'd love you to experience a taste of Bricoleur Vineyards on the road, with a curated wine dinner at Cafe Rowan in Portland, Oregon.  Join us for a multi-course dining experience featuring chef Spencer Ivankoe's custom menu paired with Bricoleur wines presented by Bricoleur Vineyards owner, Sarah Citron, and Sales and Hospitality Director, Chris Richard.
When: April 6th & 7th, 2022 @ 5:30pm
Where: Cafe Rowan
Price: $155, all inclusive
Wednesday, April 6, 2022
Thursday, April 7, 2022
Meet the Chef
Chef Spencer Ivankoe
Chef/Owner Spencer Ivankoe began his culinary journey at a very young age, and knew right away that it was his passion. After culinary school he spent most of his time working at The Bernards Inn (Bernardsville, NJ),  Public (New York, NY), and Little Rascal (New York, NY) .  Upon a decade working on the line, he went back to school to pursue a concentration in Operations Management from Baruch College. In 2016, Spencer moved to Portland, a place he has always called a second home.​
Spencer and his team will focus on creating healthy seasonally inspired menus by teaming up with local farms, purveyors, coffee roasters, tea makers, and wineries. Every part of the cafe has been designed with the customer experience in mind – from the chic, industrial interior, locally sourced menus, and the relaxing music that fills the space.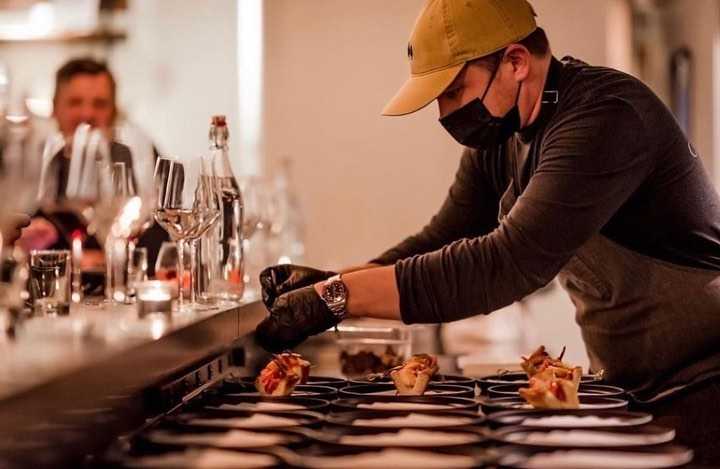 Meet the Bricoleur Team

Sarah Citron
Founder, Bricoleur Vineyards
Tom Pierson
Assistant Winemaker, Bricoleur Vineyards