From Vine to Table: Rooted Experience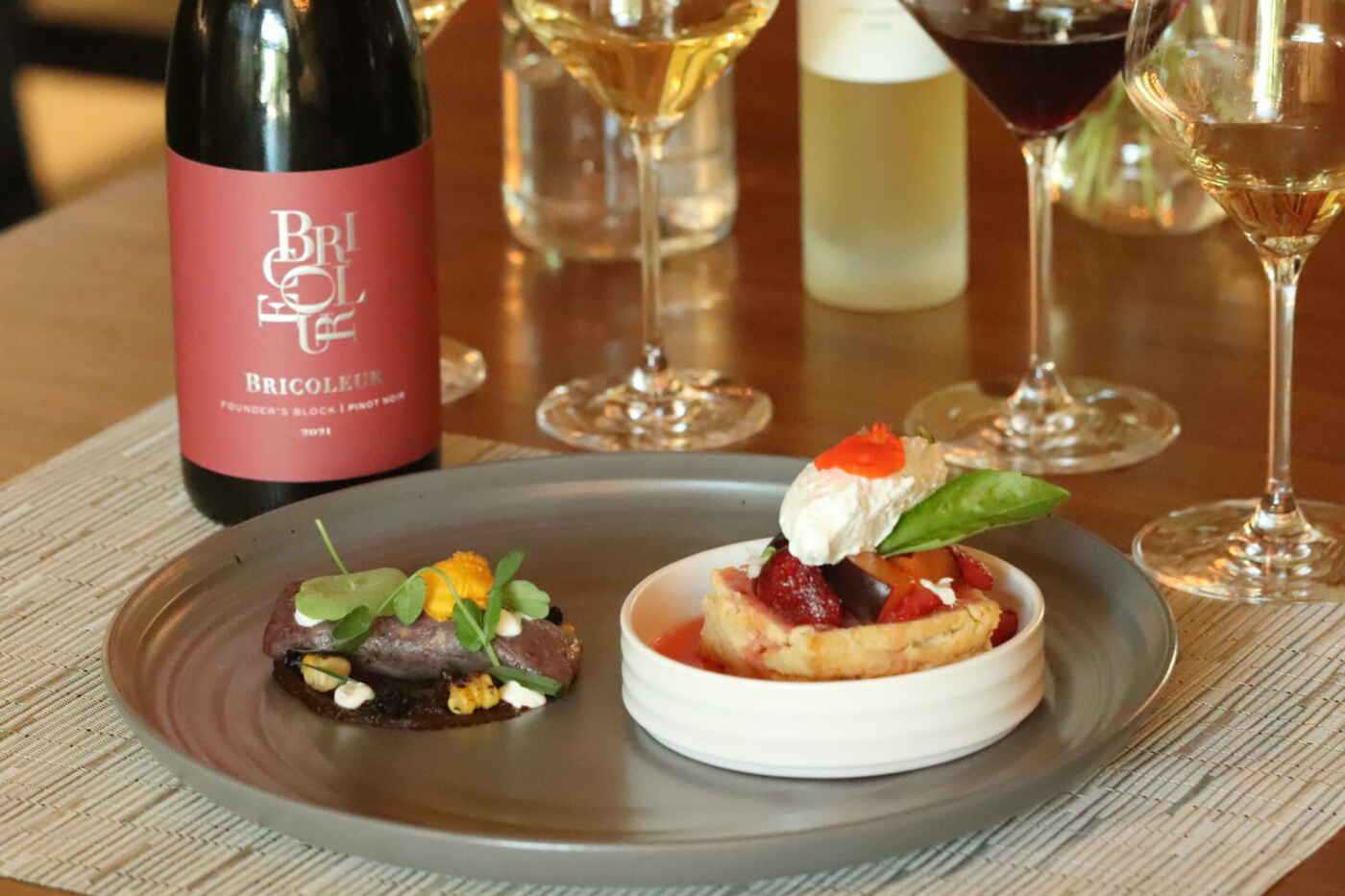 Join us at Bricoleur Vineyards, where the essence of summer is captured in every sip and every bite. Our current Rooted experience is brimming with fresh ripened summer produce from our Estate Graden while highlighting our summer favorite wines. Our Rooted experience is not just about wine and food; it's about celebrating the abundance of our Estate Garden. Every course showcases the bounty of produce our culinary garden has to offer and is garnished with flowers and herbs plucked directly from our garden adding vibrant colors and an explosion of taste to every plate. We've carefully created an experience that showcases the freshest, estate-grown produce, immersing yourself in the authentic flavors of the season. We bring you a wine and food pairing that celebrates the peak of summer.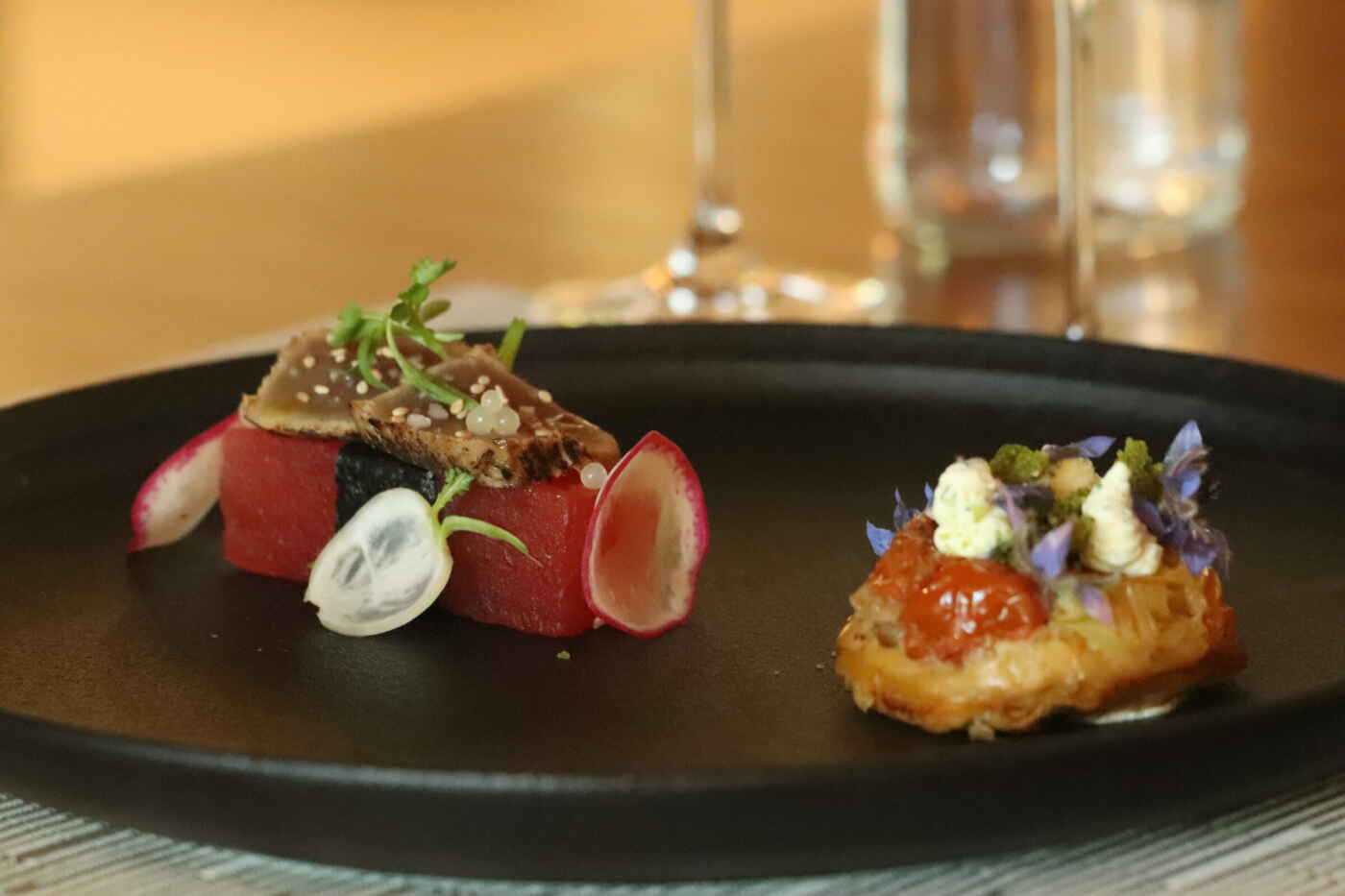 1st Course Pairing
The first course of a chilled pasta terrine and gazpacho pairs perfectly with a warm day, immediately offering guests a refreshing bite. The terrine pasta is made with fresh organic eggs from our estate chickens filled with a medley of estate-grown squash, zucchini, tomatoes, and ricotta cheese sourced from Petaluma Bellwether Farm. It's a layer of flavors and textures on your plate, emphasizing the richness of our estate garden. Paired with our 2022 Kick Ranch Sauvignon Blanc, the terrine enhances the beautiful floral notes of the Sauvignon Blanc. The Sauvignon Blanc's acidity mingles harmoniously with our fresh estate tomatoes. Plucked at their peak, our estate tomatoes harmonize flawlessly with the wine's sweet passion fruit and lime undertones.

The stone fruit gazpacho, adorned with a cured Hokkaido scallop, finds its ideal partner in our 2022 Estate Unoaked Chardonnay. The stone fruit gazpacho had a sudden smokiness that imminently cooled off with the Unoaked Chardonnay citrusy lemon notes. The fatty scallop is elegantly sliced through by this crisp and light Chardonnay, creating a perfectly balanced union. The first course sets guests on an exciting culinary journey.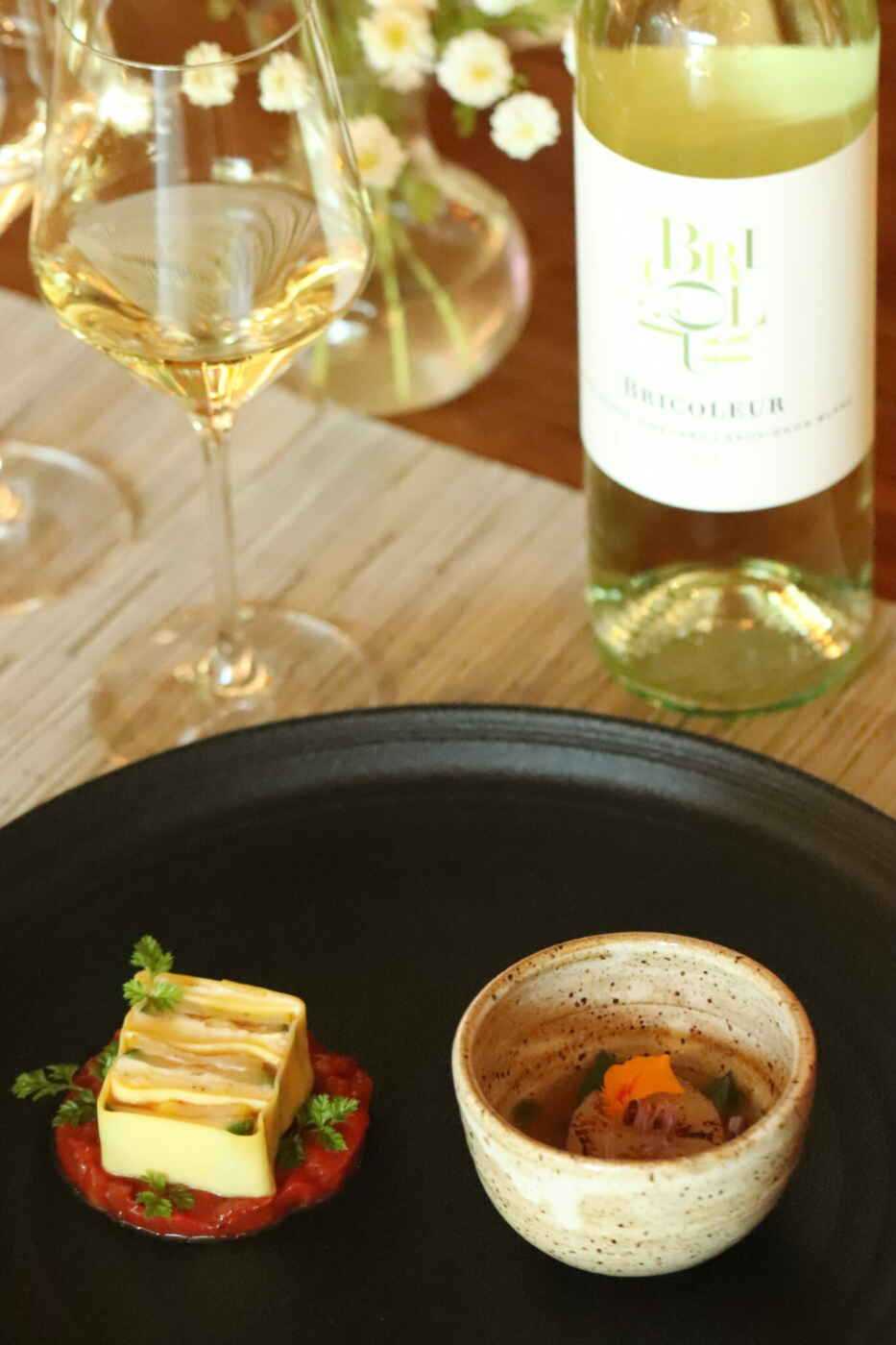 2nd Course Pairing
Our second course spotlights the garden's summer produce with a yellowfin tuna tataki and tomato tart tatin. The tuna tataki rests atop compressed estate sugar baby watermelon, marinated in organic miso and sesame oil and garnished with estate radishes. This dish is a burst of flavors, a garden-to-table experience that harmonizes with our 2022 Kick Ranch Viognier. The sweet and salty watermelon elevates Viognier's fruity white peach and nectarine notes. The chewy tuna, crisp estate radishes, and juicy watermelon create a symphony of textures that harmoniously blend with the refreshing sip of the Viognier.

The tomato tart tatin is a testament to our heirloom tomatoes grown across the estate, roasted to perfection in our brick pizza oven with estate herbs. This dish truly showcases our garden's diversity and depth of flavor, paired with our 2017 Estate Chardonnay. The tart intensity of the wine's robust nutmeg-oaky notes. Coming together to create a savory complex pairing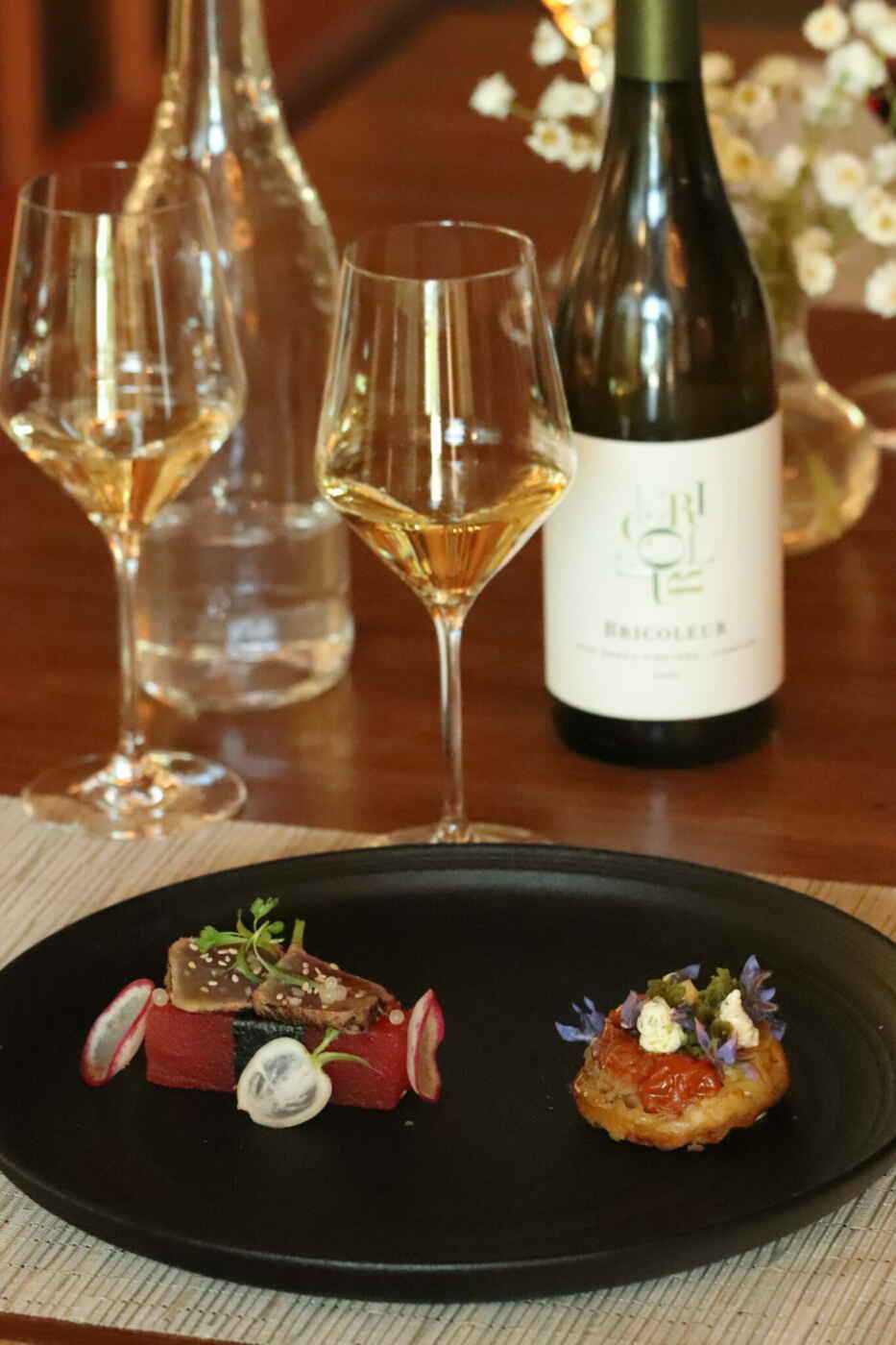 3rd Course Pairing
Our culinary journey concludes on a sweet note with a chocolate-braised short rib tamale and a heavenly strawberry shortcake both crafted to perfection with ingredients from our estate. The tamale, drizzled with our house mole sauce, bridges the gap between savory and sweet. Made with estate-grown corn and a house mole with rich, bittersweet chocolate notes, this dish is paired perfectly with our 2021 Founders Block Pinot Noir. The dry red Pinot Noir effortlessly balances the gamey short rib. The tamale enhances the wine's fruity raspberry notes, offering a taste similar to a savory chocolate-covered raspberry.
For the first time, we have included our Last Note Late Harvest dessert wine in our Rooted experience, paired with a strawberry shortcake featuring strawberries. The strawberries are macerated in organic brown sugar. The sweet notes of the Late harvest intensify the saltness of the shortcake. This pairing elevates the dessert to new heights, intensifying its sweet profile and leaving a lasting impression on your palate.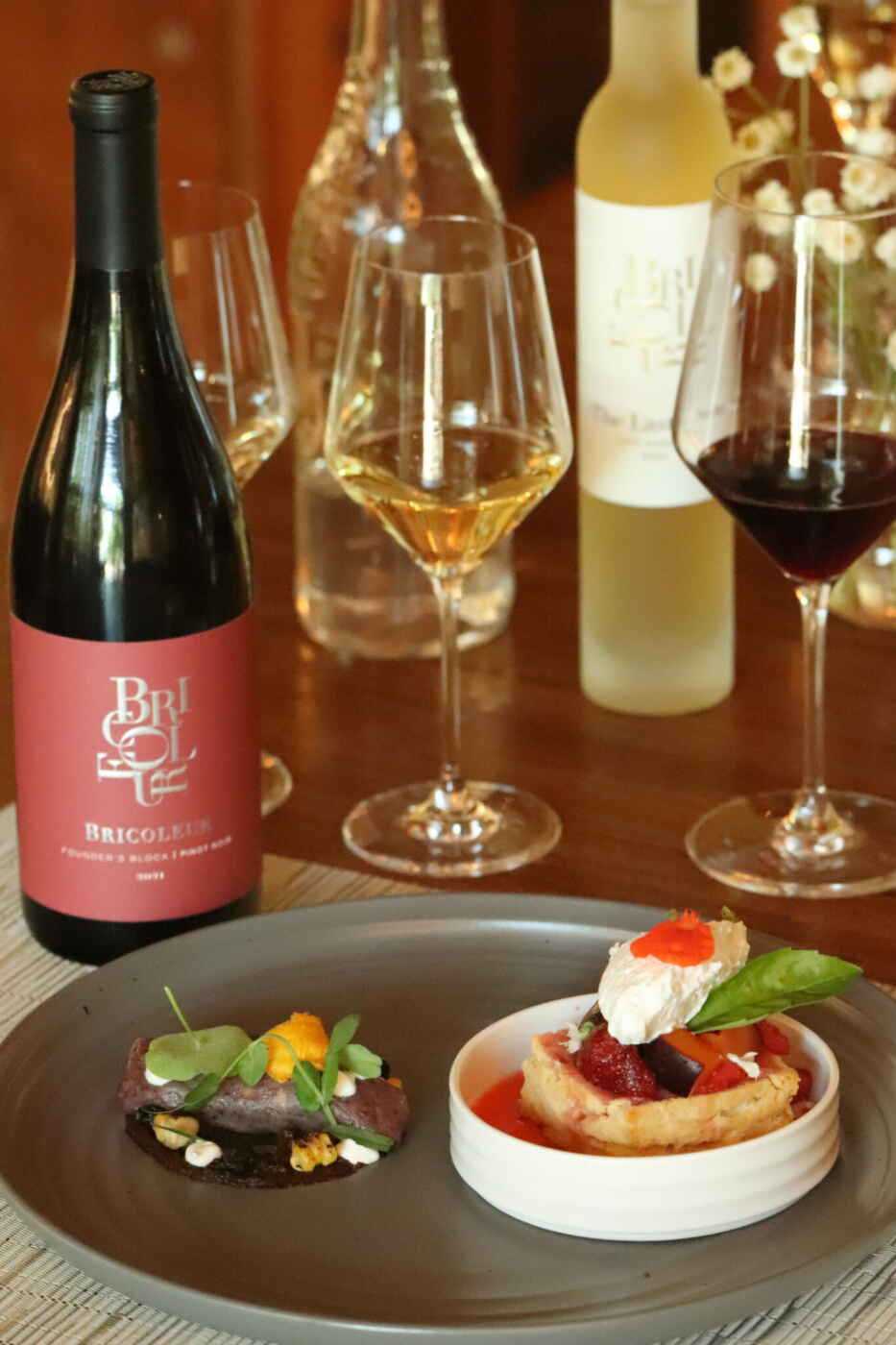 Enjoy the vibrant summer flavors harvested from our lush estate garden and seize the moment to relish these seasonal delights. Join us on this extraordinary culinary adventure, celebrating our exceptional wines and honoring the season's bounty.
Post navigation