2nd Annual Harvest Party
Bricoleur Vineyards Food & Wine Features:
Start your experience at our 2nd Annual Harvest Party with a splash of "Flying by the Seat of Our Pants" Brut in your Bricoleur Vineyards tumbler!
As you enjoy your day, we invite you to enjoy Bricoleur Vineyard's wines by the bottle, which are available throughout the property: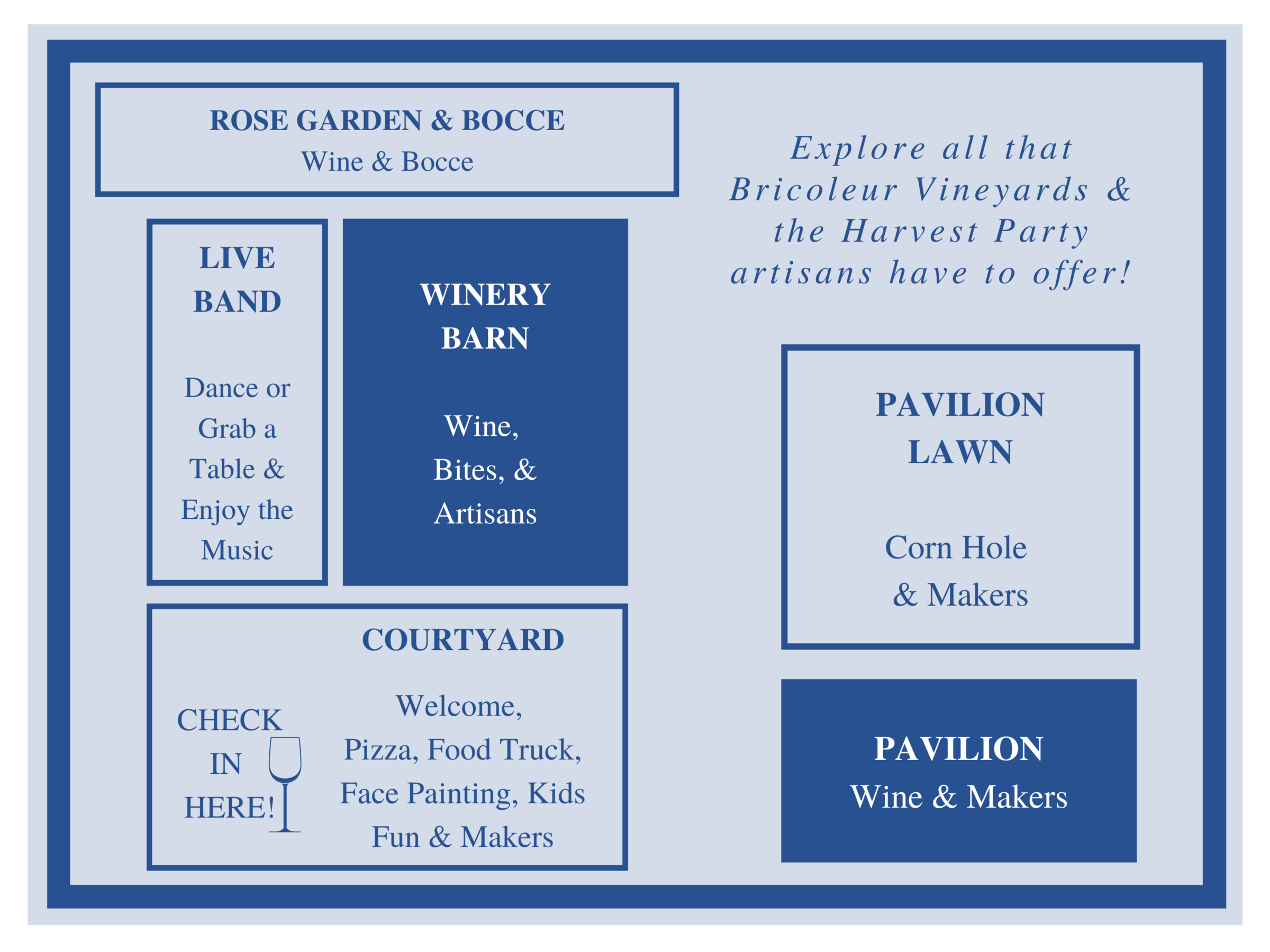 Our full Tasting Room Menu is available in the Winery Barn, with special features in the Rose Garden and Pavilion.
Rosé in the Roses
2019 Estate Rosé of Pinot Noir and 2020 "Flying by the Seat of Our Pants" Rosé of Grenache
Palete Pleaser in the Pavilion
2019 Kick Ranch Sauvignon Blanc
Additionally, our culinary team has curated two seasonal pizzas available for your enjoyment:
Fall White Pizza
Caramelized Pumpkin, Sage, Goat Cheese, Crushed Pepitas
Price: $30.00
Roman Harvest Pizza Slice
fennel pollen, grapes, caramelized onion, Point Reyes Tome Cheese, Mozzarella, and Arugula
Price: $6.00
In addition to food and wine, you will also find an array of Bricoleur Vineyards wine accessories, apparel and culinary products available for purchase.
Joining us for our 2nd Annual Harvest Party are the following local artists:
Rock on a Roll is a classic rock dance band that takes its influences from rock, jazz, country, blues and folk. They play tunes from the Allman Brothers to ZZ Top and everywhere in between. They take classic rock songs and give them their own touch, enhancing the feel and embellishing it with their own style. Having fun and giving a good performance has been the hallmark of this band. Their fan base is large and growing.
The members of Rock on a Roll are seasoned veterans of the Sonoma County music scene. Individually and together they have played clubs, events, fund-raisers, weddings, festivals, celebrations and private parties. They are all from Sonoma County; Sebastopol, Santa Rosa, Occidental and Healdsburg.
Featuring water color paintings of our property, visit Feven to take the beauty of Bricoleur Vineyards home and other custom paintings she will be creating over the course of the event!
Féven Zewdi is a first gen Eritrean-born artist. Her work often carries the rich tribal decorum of her Habesha culture. She's one of the lead artist for SCAPE (Sonoma county Artist Propelling Equity). She hopes her work and efforts will spark curiosity, social and political awakening that push for collective solution-building that'll impact socio and economical improvements for BIPOC communities.
Bringing joy to children and adults alike local talent, Krysta Cook will be painting faces throughout our Harvest Party festivities!
Krysta is a Sonoma County native who has been a catalyst in the growing arts scene in the North Bay over the past ten years, collaborating with other local visionaries to produce/co-produce public and private specialty shows. Krysta began to challenge the status quo of local arts when she decided to incorporate wild costuming, custom event entertainment packages and a wide selection of top-notch artists ready to book with just one phone call. A one-stop-shop of specialty arts as born!
Taste & Shop Artisans & Makers
Featuring a menu that includes:
black pig BLT with tabasco aioli
pulled pork with apple slaw, chicharrone
bacon-in-the-burger with cheddar, fried onion
black kale caesar
rapini + fontina grilled cheese
kimchi fries I sriracha aioli | regular fries
rodeo jax – bacon caramel popcorn
Black Pig Meat Co. is the brainchild of chefs duskie estes and john stewart from zazu kitchen + farm. Bringing the bay area bacon in slab, bulk slice, end & pieces or 12 ounce packs through feed Sonoma and direct via wholesale, their bacon is made from sustainably raised pigs from family farms that respect the land and the animals in their care. the pigs are heritage breed, raised without antibiotics and hormones, and are allowed to roam free. They slow down the process and make sure it tastes good and the animals are treated right. Their bacon is dry cured with brown sugar for up to 21 days and then finished with applewood smoking for about 12 hours. Black Pig Meat Co focuses on quality not quantity.
Shop the array of chocolate bars, made with all of the love and passion that fine chocolate deserves.
Jeff and Susan of VOLO Chocolate current produce over 1,200 chocolate bars per week in their production studio in Windsor, using local ingredients whenever possible including: Clover Dairy, Petaluma Hill Dairy, Merchant & Miller Extra Virgin Olive Oil and Wolf Coffee. They also have their printing done in Sonoma County. The cocoa beans they use are sourced from the Lachua region from farmers' associations of growers in Guatemala and from another farmers' association in Haiti.
More about their story:
While living in Mexico and working at a small beach resort at the Southern tip of Baja California as Executive Chefs, we fell in love with the flavors and soul of Mexican chocolate. We enjoyed many wonderful hours experimenting with the many ways we could bring out the flavors through various techniques and ingredients. It wasn't long before we created a great "bean to bar" craft chocolate recipe. We felt we had created something special.
Creating things beyond the expected, designer Wendy Furman will be sharing custom creations such as wine bottle bags, paper goods and more.
When you want your products to make a strong first impression, great packaging can help you stand out and enhance the customer experience. Wendy Furman Design offers custom packaging and label design for businesses.
Enjoy the art of arranging and craft your own arrangement or take home a beautiful bundle of hand wrapped fresh seasonal flowers!
Point West Wholesale Flower Market is a North Bay wholesale and retail flower market. The brain child of a group of highly experienced floral designers who have made it their priority to procure fresh-cut flowers locally and from around the world so that professional florists, floralpreneurs and DIY enthusiast can enjoy working with flowers are sourced with intention and increase productivity and reduce the amount of time, stress, and money spent on sourcing fresh cut flowers. Today's design partner is Lace and Willow, a floral and event design company focusing on high end design and decor for events.
An evolving collection of wovens, soft goods + designs from artisans all over the world, Bon Ton Studio will be sharing handbags, pillows & poufs, throws, Turkish towels and even some items for the little ones with Bon Ton Baby apparel, essentials, and accessories.
Inspired by a decade of experiences and adventures from around the world, Bon Ton Studio is an evolving collection of wovens, apparel, soft goods, and beautiful designs from artisans all over the world.
An eclectic blend of Australian surf chic, laid-back luxury of California wine country, and unique snippets found during travels through Europe, Asia, and Africa, Bon Ton Studio products represent an artful marriage of handcrafted artistry and practical functionality. The collection features sophisticated and timeless color palettes inspired by owner Erika Dawkins' interpretation of current trends and her love for a neutral chic and elegantly simple look.
Post navigation