Support Sonoma County — Here's How To Help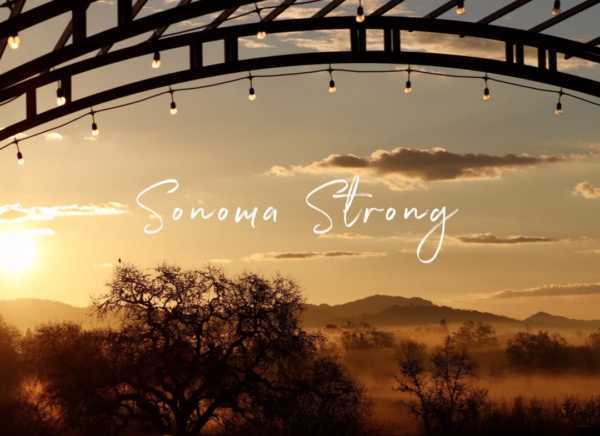 The winds have died down, evacuations have been lifted, and the progress of containment continues but the battle does not stop there. The Sonoma County community will need as much help as possible to heal. Sonoma County is no stranger to the tragedy of a destructive fire. Two years ago the Tubbs Fire blazed through Sonoma County and we were able to heal the community once and we're positive that with everyone's help we can do it again. Staying Sonoma Strong means supporting Sonoma County in any way you can.
Here are some ways to help:
Continue to buy Sonoma County wines!
Visit Sonoma County: These fires don't make Sonoma County any less incredible. Please continue to visit! Plan your next visit with Sonoma County Tourism here.
Donate or Volunteer with Redwood Empire Food Bank: Redwood Empire Food Bank helps provides fresh food, groceries, and meals to 82,000 children, seniors, and adults in Sonoma County.
Volunteer with Sonoma Family Meal: Since October 2017, Sonoma County Meal offers nourishing, chef-made meals to families who have lost homes as a way to bring families together at the table again.
California Fire Foundation: The California Fire Foundation's Supplying Aid to Victims of Emergency (SAVE) program brings immediate, short-term relief to victims of fire or other extreme natural events throughout California. The California Fire Foundation is also accepting donations to its California Firefighters Benevolent Fund that provides assistance and support to firefighters who are displaced or impacted by fire or other natural events.
Center for Disaster Philanthropy (CDP): CDP has launched the 2019 California Wildfires Recovery Fund. As with most disasters, cash donations are recommended by disaster experts as they allow for on-the-ground agencies to direct funds to the greatest areas of need, support economic recovery and ensure donation management does not detract from disaster recovery needs.
Center for Volunteer & Nonprofit Leadership (CVNL): CVNL is accepting disaster donations in Marin and Napa. CVNL has set up a fund to support those affected by the recent fires. Donations will be distributed to local nonprofits to address immediate and long-term community needs. Under "additional information" make sure to select "disaster-related" work.
Community Foundation of Sonoma County: The Community Foundation of Sonoma County's ongoing Resilience Fund continues to accept donations to support the mid- and long-term recovery needs of individuals and families, with particular focus on helping the needs of individuals, healing the effects of long-term trauma, and addressing housing solutions within the county.
Global Giving: The Disaster Recovery Network at GlobalGiving has launched a Northern California Wildfire Relief Fund. This fund will support immediate relief efforts for people impacted by the fires in the form of emergency supplies like food, water, and medicine, and will eventually transition to funding long-term assistance to help residents recover and rebuild. All donations to this fund will exclusively support wildfire recovery.
Latino Community Foundation: The Latino Community Foundation's NorCal Wildfire Relief Fund has been activated. The fund supports nonprofits that include Corazon Healdsburg and Nuestra Comunidad, which are providing essential sheltering and supportive services to Latino immigrants and farm workers impacted by the fire.
UndocuFund: The UndocuFund for Fire Relief in Sonoma County, managed by Graton Day Labor Center, North Bay Organizing Project, and North Bay Jobs with Justice, is currently raising funds to assist the victims of the Kincade Fire. This fund is providing direct funding to undocumented immigrants in Sonoma County and their families to help with fire-related expenses.
United Way of the Wine Country: United Way has opened the Kincade Fire Emergency Relief & Recovery Fund to help in the relief and recovery efforts post-fire. All gifts made via our website will be directed to the fund until further notice.
This information comes from Northern California Grantmakers.
Thank you to all the firefighters and first responders.
Sonoma County is forever grateful.
Post navigation