Dried Floral Wreath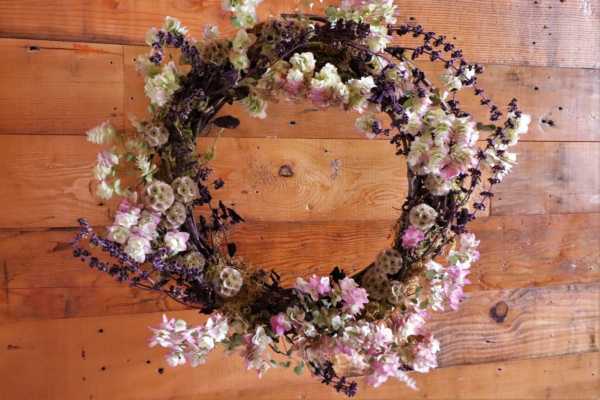 By: Kim Coleman and Isabella Cirelli
Create this dried beauty in a few simple steps. This dried wreath will last forever, so hang it up and let this delicate floral arrangement brighten up any room.
You Will Need:
Grapevine Wreath Base (click here to see how to make the grapevine wreath base)
Hot Glue Gun
Scissors
Dried Ornamental Oregano
Dried Purple Basil
Dried Lavender
Dried Moss
Dried Scabiosa Pods
Dried Fountain Grass
How To:
Step 1: Dry your Ornamental Oregano, Purple Basil, Lavender, Moss, Scabiosa Pods, and Fountain Grass.
Step 2: Start by hot gluing the moss all around the grapevine wreath.
Step 3: Then begin to weave the purple basil into the wreath.
Step 4: Add the ornamental oregano by weaving it in.
Step 5: Finish the wreath by adding a few scabiosa pods and the fountain grass.
Step 6: Hang it up!