Sunny Season Pairings
New Rooted Menu
As the seasons change so does our menu. We always try to showcase what is fresh in our garden on our guest's plates. With Summer approaching, our Rooted menu needed to reflect the exciting growth and change in our estate gardens. Chef Thomas Bellec, Farmer Mikey de Paolo, and our winemakers came together to craft a menu that highlights our new wine releases and the bounty of our gardens.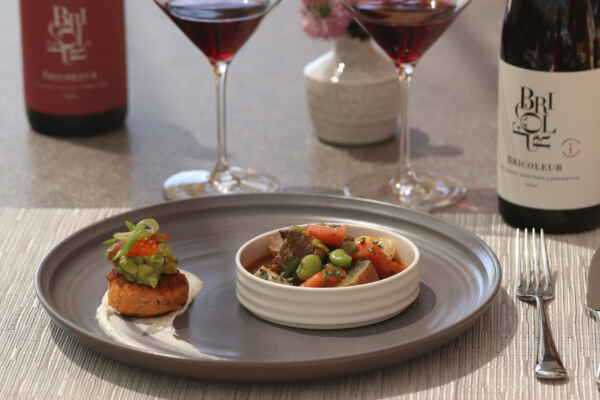 The Pairings
Our guests are immediately reminded of spring in the first course, with bright yellow hollandaise sauce made from our estate eggs and vibrant estate green spring peas. Delicious flavors are hard to ignore. Paired with our latest 2022 Rosé of Grenache- a beautiful floral nose of tulips and a refreshing plate of candied raspberries, it also has a refreshing acidity. The acidity from the wine with the creamy bite creates a harmonious pairing.
Our second course of shrimp siu mai has a bit of ginger that kicks your taste buds out of hibernation following a fresh sip of our newest 2022 Viognier. Our 2022 Viognier is aged and fermented in 100% stainless steel for a bright, refreshing wine that is perfect for the warmer months ahead. The second course is accompanied by sustainable halibut and wild mushrooms paired with our 2021 Unoaked Chardonnay. The two together are delightful –  the rich halibut perfectly contrasts the crisp, Unoaked Chardonnay.
The third course is an elevated experience of spring lamb and a savory salmon cake. Both are delicious in their way and belong together on a plate as they complement one another. The salmon cake has an herbaceous linger from the dill cream leaving a fresh taste in the guest's mouth. It is paired with our 2021 Founder's Block Pinot Noir; the subtle oak and spice from the wine are an impeccable match for the herbaceous salmon cake. The lamb is served in a light stew with roasted vegetables- paired with a tasting room favorite, our 2021 Kick Ranch Grenache. 2021 Kick Ranch Grenache has lovely notes of violets and fresh strawberries, and the light body but juicy plate makes it the perfect match for the lamb. The team does an excellent job of taking guests through our estate without leaving the table.
This exciting menu will only be available for a limited time, stop by before you miss your chance.
Post navigation