Fall Update: Grapevine Wreath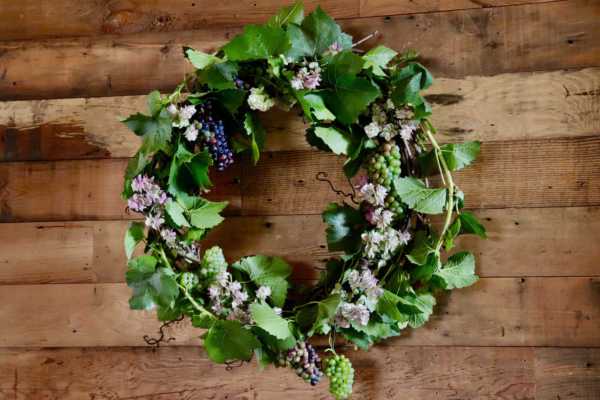 By: Kim Coleman & Isabella Cirelli
Autumn has arrived! It's time to swap out all the summer decor for fall leaves, pumpkins, and even grapevines. Say hello to fall by dressing up your front door with this simple DIY grapevine wreath!
You Will Need:
Grapevine Wreath Base (click here to see how to make the grapevine wreath base)

Table Grapes

Fresh Grapevines

Fresh Oregano or Ornamental Oregano

24 Gauge Wire (cut into 3-inch strands)

Floral Picks

Wire Cutters

Floral Shears
How To:
Step 1: Create the grapevine wreath base. Need help? Look at our grapevine wreath DIY.
Step 2: Clean up the grapevines.
Step 3: Start placing the grapevines around the wreath and intertwine throughout the wreath.
Step 4: Wrap the floral pick around the stems of the table grapes.
Step 5: Weave the table grapes into the grapevine wreath.
Step 6: Then weave in the oregano below the fresh grape vines. Now the wreath is complete!
Post navigation